Duct Rodders come in any length.
Press Release Summary: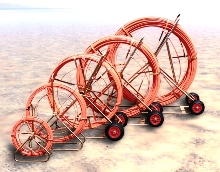 Available in 1/4, 5/16, 7/16 and 9/16 in. dia, duct rods are supplied in lengths specified by customer. Fiberglass rods, made from E-Glass+ Vinylester, provide high tensile strength and flexibility. Glass-fiber core is reinforced with high-strength resin, and reinforced wrap is added before UV-stabilized, wear-resistant, protective propylene coating is applied. Rods are wound on lightweight, tubular-steel frames for easy handling.
---
Original Press Release:
New Duct Rodders From GMP Combine High Tensile Strength & Flexibility

Trevose PA, April 1, 2002 -- General Machine Products Co., Inc. (GMP) has introduced a line of duct rodders, a result of its recent partnering agreement with the U.K.-based CBS Products, Ltd., also a global leader in cable placement tools and technology. The new duct rodders are available in four rod diameters: 1/4 in. (6 mm), 5/16 in. (8 mm), 7/16 in. (11 mm) and 9/16 in. (14 mm). Rod lengths can be specified by the customer.

These duct rodders feature high-quality, fiberglass rods (E-Glass+ Vinylester) that are specially constructed to provide exceptionally high tensile strength while retaining flexibility. For example, the glass fiber core (80% fill rate) is reinforced with a high-strength resin, and a reinforced wrap is added before a UV-stabilized, wear-resistant protective propylene coating is applied. The rods are wound on lightweight, tubular-steel frames for easy handling.

Founded in 1936, GMP is a family-owned company headquartered in Trevose PA, a suburb of Philadelphia. GMP designs, prototypes and manufactures tools and equipment for the aerial and underground placement of copper conductor, coaxial cable and fiber optic cable in the telecommunications, power utility and cable television industries, as well as for the contractors who serve these industries. Its 600-plus product line includes aerial cable lashing machines, continuous-duty winches, fiber optic cable pullers, cable reels and rollers, cable cutters, manhole & duct tools, hand tools, warning signs, tents and tarps, winches, motor vehicle accessories, hardware and commodities, and more. GMP also offers unique modular plug pressing tools and other specially designed tools for the data and telecommunications market.

For additional information, contact: Doug Clemens, Vice President, Sales & Marketing GMP, 3111 Old Lincoln Hwy., Trevose, PA 19053 * Tel: 215-357-5500 * Fax: 215-357-6216 Email: [email protected] * Web: www.GMPtools.com