Duct Liner has water-repellent enhanced surface.
Press Release Summary: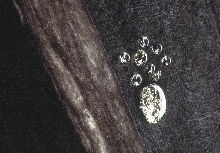 ToughGard(TM) R with Enhanced Surface is an HVAC rotary-based fiberglass duct liner with moisture-resistant, breathable surface coating, which preserves sound-dampening performance. Air stream surface contains EPA registered antimicrobial agent. Duct liner serves as barrier against infiltration of dust and dirt into insulation. It is designed for systems operating at velocities up to 6,000 fpm and temperatures up to 250°F.
---
Original Press Release:

Certainteed Toughgard(TM) R HVAC Duct Liner Now with Water-Repellent Enhanced Surface


VALLEY FORGE, PA, AUGUST 2002 - CertainTeed announces the availability of ToughGard(TM) R with Enhanced Surface, the HVAC rotary-based fiberglass duct liner with the new moisture-resistant surface improvement. It joins ToughGard Duct Liner with Enhanced Surface, CertainTeed's long-textile-based product. Both offer excellent acoustical and thermal performance.

The new Enhanced Surface of ToughGard R Duct Liner is more moisture-resistant than other fiber glass duct liners and has proven to be approximately 40% more moisture resistant than the previous generation of ToughGard R Duct Liner insulation. The new surface helps alleviate some specifiers' concerns about moisture that may enter a duct system due to improperly sealed duct joints or poorly installed and maintained duct systems.

Unlike reflective, continuous film coatings used on competitive, moisture-repellent duct liners, the "breathable" Enhanced Surface coating on ToughGard R preserves the sound-dampening performance of the duct liner by allowing sound waves to pass through the open-cell structure and into the sound-absorbing glass fiber mat. The air stream surface contains an EPA registered antimicrobial agent in order to reduce the potential of microbial growth that may affect this product. The antimicrobial properties are intended to only protect this product.

The tougher, smoother, more damage-resistant airstream surface on
ToughGard R with Enhanced Surface provides exceptional resistance to tearing, puncturing, and surface wear during installation and cleaning with industry-recognized duct cleaning equipment outlined in the NAIMA Duct Cleaning Guide. It also serves as a barrier against infiltration of dust and dirt into the insulation, improves system efficiency, exhibits low air resistance, and reduces the potential for fiber erosion.

The duct liner is a flexible blanket composed of rotary-glass fibers bonded together with a thermosetting resin. It is designed for systems operating at velocities up to 6,000 fpm and temperatures up to 250°F. It meets all requirements of ASTM C 665, CI 071, G 21, and G 22. It is used primarily as an acoustical liner to absorb unwanted crosstalk, air rush, and break out noise. It improves thermal efficiency by reducing heat loss or gain, decreasing HVAC system operating costs, energy consumption, and resulting emissions into the atmosphere. Condensation is also controlled, potentially resulting in improved IAQ by reducing unwanted moisture.

The resilient duct liner can be easily brake-formed with sheet metal without damage and recovers virtually all of its thickness if compressed. Edges cut cleanly with common hand tools or automated fabrication equipment, with a minimum of dust produced during the fabrication process.

ToughGard R with Enhanced Surface has a factory-applied edge coating called Certa*Edge(TM) Coat that seals the edge fibers and assures coverage of the transverse edges with coating per SMACNA Installation Standards. This added feature translates into labor and materials savings for contractors who previously had to "butter" edges in their shop.

ToughGard R with Enhanced Surface will not deteriorate or provide
sustenance for vermin or rodents, and will not corrode the sheet metal it insulates.

For more information about ToughGard R with Enhanced Surface, contact CertainTeed Corporation, Insulation Group, P.O. Box 860, Valley Forge, PA 19482. For telephone inquiries, call CertainTeed at 800-233-8990.

CertainTeed Corporation is one of North America's leading manufacturers of building materials--fiber glass insulation; commercial and residential roofing; vinyl fencing, siding and windows; fiber cement siding; ventilation products; foundation and piping products; as well as vinyl and composite decking and railing products. The company is headquartered in Valley Forge, Pennsylvania, and has approximately 7,000 employees and more than 40 manufacturing facilities throughout the United States. The company had sales of approximately $2.2 billion in 2001.

CertainTeed is a subsidiary of Saint-Gobain, one of the top 100 industrial companies in the world. The company is a leading producer of abrasives, building materials, containers, flat glass, industrial ceramics, insulation, reinforcements and piping. Headquartered in Paris, Saint-Gobain had worldwide sales of $27.2 billion in 2001, and has approximately 173,000 employees in more than 45 countries.

In the U.S. and Canada, Saint-Gobain employs approximately 28,000
people, and has approximately 200 manufacturing locations. Its total U.S. and Canada sales in 2001 were approximately $6.4 billion.

Saint-Gobain's web site is www.saint-gobain.com
CONTACT:
Tom Newton
Insulation Group
800-723-4866
610-341-7739
thomas.a.newton@saint-gobain.com

FROM:
Elva Legere Clements
Alvare Associates
610-688-5140, Ext. 203
elva@alvare.com

More from Electrical Equipment & Systems