Dual Wall Heat Shrink Tubing meets UL VW-1 test requirement.
Press Release Summary: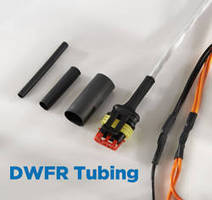 Rated for UL VW-1 flammability test specified by UL 224 standard, DWFR (dual wall, fire-retardant) heat shrink tubing comes in 14 sizes from 3–52 mm ID and is applicable to range of electrical connections and terminations. Flame-retardant polyolefin jacket and thermoplastic inner adhesive wall provide electrical insulation and mechanical protection. When properly installed, tubing shrinks to create moisture-resistant seal. Heat shrink ratios of 3:1 and 4:1 enable diverse use.
---
Original Press Release:
TE Connectivity's New Dual Wall Heat Shrink Tubing Products Meet the UL VW-1 Flammability Requirement
-- DWFR tubing products combine flame-retardant and moisture-resistant capabilities for wide range of applications --

MENLO PARK, California – TE Connectivity (TE), a world leader in connectivity, introduces the DWFR (dual wall, fire-retardant) product line – its first dual wall heat shrink tubing products to be rated for the UL VW-1 flammability test specified by the UL 224 standard. The DWFR tubing products' highly flame retardant polyolefin jacket and a thermoplastic inner adhesive wall provide excellent electrical insulation and mechanical protection. When properly installed, the tubing shrinks to create a moisture-resistant seal. The DWFR tubing products' high heat shrink ratios of 3:1 and 4:1 enable designers to use just a few tubing sizes across numerous applications – from home appliances to industrial controls to automotive.

"Although many single wall tubing products meet the UL VW-1 flammability test, TE's new DWFR product line fills a pressing design need for dual wall tubing that is rated for this requirement," said John Sandwell, tubing product management director, TE Appliances. "Being highly flame retardant, DWFR tubing can be used in a host of applications where safety and reliability are paramount design concerns and protection against moisture ingress is also required. Its versatility can also help manufacturers reduce inventory requirements and costs."

TE's DWFR tubing is applicable to a broad range of electrical connections and terminations. The product line comprises 14 sizes from 3 to 52mm (inside diameter). Of those, seven have 3:1 heat shrink ratios and seven have 4:1 ratios. The high shrink ratios can be particularly useful when applying this tubing to a connector-to-cable transition or to fit over a connector when making a cable jacket repair to an existing harness.

All sizes of DWFR tubing provide a full recovery at a moderate temperature of 125 degrees Celsius and can be used across operating temperatures ranging from minus 40 degrees Celsius to 110 degrees Celsius. The tubing products' medium wall jacket offers protection from abrasion and bending. The tubing's adhesive liner is capable of bonding to a variety of substrate materials, including plastics, metals and rubbers, and provides protection from moisture ingress.

The tubing can be easily installed using many different types of heating tools, ranging from basic heat guns to conveyor-equipped ovens, for high-volume production environments.

Price: Available upon request
Availability: Now
Delivery: 4 weeks ARO

ABOUT TE CONNECTIVITY
TE Connectivity (NYSE: TEL) is a $12 billion global technology leader. Our connectivity and sensor solutions are essential in today's increasingly connected world. We collaborate with engineers to transform their concepts into creations – redefining what's possible using intelligent, efficient and high-performing TE products and solutions proven in harsh environments. Our 75,000 people, including 7,300 design engineers, partner with customers in over 150 countries across a wide range of industries. We believe EVERY CONNECTION COUNTS – www.TE.com.

Contacts: Media Relations:
Karl Grubb
TE Connectivity
336-727-5622
karl.grubb@te.com

Media Relations:
Jing Lu
TE Connectivity
650-361-2627
jlu@te.com
More from Material Processing