Global Positioning Systems (GPS)
Dual Video Drive Recorder with GPS monitors driver activity.
Press Release Summary: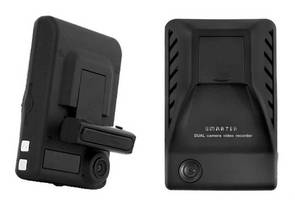 SMARTER dual video drive recorder with GPS is forward- and rearward-looking video recorder that provides inside and outside views of vehicle, matched with GPS route, speed, and location. Device records digital video whenever ignition is on, and individual, time/date stamped video events are triggered by impact and fast acceleration or deceleration. Recording between 1-3 min before and 1-3 min after event is triggered, unit also includes IR illuminator and audio recorder.
---
Original Press Release:

Keytroller, LLC Announces SMARTER Dual Video Drive Recorder with GPS



A leader OEM in the safety technology industry, Keytroller, LLC unveils its solution to the rising automotive accidents and fatalities caused by cell phone distractions. Additionally, this same device secures protection from false automotive accusations.

TAMPA, FL - Keytroller, LLC introduces the SMARTER dual video drive recorder with GPS. The pro-active device creates driver accountability and video proof of accident liability by providing both inside and outside views of a vehicle, while simultaneously matched with GPS route, speed and location. The simple, inexpensive and easy to install solution can potentially save a company millions of dollars by securing protection from false claims and accusations regarding accidents the company's vehicles are involved in. In addition, the device forces operator accountability for all actions, including cell phone use. The documented proof thus allows for appropriate actions to be warranted.

The SMARTER provides immediate video proof of an accident occurrence, and documents the happenings prior and post the incident as well. The device is a forward and rearward looking video recorder, and continuously records digital video whenever the ignition is on, then overwrites the oldest video when the memory card is full. In addition, the device records individual video events triggered by impact, fast acceleration or fast deceleration (heavy breaking). Events are time/date stamped, and records between 1-3 minutes before, and 1-3 minutes after the event is triggered. For further accuracy, there is an IR (infrared) illuminator for capturing the inside of the driver's cabin at night, and audio can be recorder as well.

As of Jan 26, 2010, it is now illegal for truck and bus drivers who travel interstate roadways to use a handheld device to send text messages. According to the U.S. Transportation Secretary, Ray LaHood, the new law which is supported by the trucking and bus industry, charges violators up to $2,750 in fines. Currently (as of 5/2010), 25 individual states have completely banned texting while driving while most states are seriously considering the same action.

o Twenty-eight percent of traffic accidents occur when people talk on cell phones or send text messages while driving, according to a 2010 study by the National Safety Council.

o Drivers that use cell phones are four times as likely to get into crashes serious enough to injure themselves (NHTSA, Insurance Institute for Highway Safety).

o On-the-job crashes cost employers over $24,500 per crash, $150,000 per injury, and $3.6 million per fatality (NHTSA, "The Economic Burden of Traffic Crashes on Employers DOT HS 809 682," National Highway Traffic Safety Administration).

o Driving while distracted is a factor in 25% of police reported crashes.

o Driving while using a cell phone reduces the amount of brain activity associated with driving by 37% (Carnegie Mellon).

o Virginia Tech Transportation Institute concluded that people who send text messages while driving are 23 times more likely to be in a crash (or what they call a near-crash event) than non distracted drivers.

o More than 500,000 people were injured and nearly 6,000 people were killed last year in motor-vehicle accidents involving a driver who was distracted while using a cell phone or texting device, according to the U.S. Department of Transportation.

Keytroller, LLC

3907 W. Martin Luther King Blvd.

Tampa, FL USA 33614

Phone: (813) 877- 4500

Fax: (813) 871- 6250

www.keytroller.com

mailto:sales@keytroller.com

More from Electrical Equipment & Systems