Dual Touch Displays target marine applications.
Press Release Summary: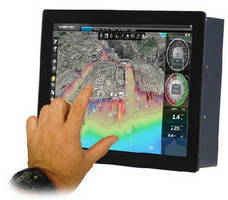 With KEPM GB Dual Touch Glass Bridge Displays, boaters can zoom in/out and skew displayed images with 2 fingers. Sunlight readable units accept composite, S-Video, DVI, VGA, UXGA, and SXVGA inputs. Featuring color TFT Active Matrix LCD, 15, 17, and 19 in. models have max resolution of 1,280 x 1,024, while 22 in. widescreen model has 1,680 x 1,050 max resolution. Additional features include backlighting that is dimmable to complete black for night viewing and 3-stage Picture in Picture capabilities.
---
Original Press Release:

KEP Marine Introduces the Industry's First Dual Touch Glass Bridge Displays



Innovative Designer and Manufacturer of Industry-Leading Sunlight Readable Displays Debuts the First Marinized Screens with Two-Finger Touchscreen Functionality

Eatontown, N.J. - Kessler-Ellis Products (KEP) Marine, the manufacturer of industry-leading marine sunlight readable displays and high-quality marine hardware and software products, announced today the first marine multi-touch monitors, the KEPM GB Dual Touch Glass Bridge Display series. Similar to popular smart phone and computer tablets like the Apple iPad®, the new screens allow boaters to zoom in, zoom out and skew displayed images with the use of two fingers. Turning taps, swipes and pinches into lifelike actions, the accuracy and precision of dual touch exceeds the capabilities of one-touch screens on the market. The KEPM GB series pairs KEP Marine's industry-leading crisp, clear and vibrant, no haze or glare displays, even in the strongest sunlight, with seamless multi-touch technology for the ultimate in convenience as well as full fingertip control navigation functionality.

The KEPM GB Dual Touch Display series provides simplified command processing at the helm. Compatible with new PC-based marine navigation software that incorporates convenient touch-screen operation, the multi-touch displays from KEP Marine offer state-of-the-art control to easily zoom, pan, change chart display modes and perform numerous navigation functions using only fingertips. Providing unparalleled screen clarity in all lighting conditions, the new displays offer impeccable 2D and 3D top-down and side viewing of navigation data. Coupled with a user-friendly interface and innovative multi-touch functionality, KEP Dual Touch Displays offer the most dynamic, convenient and enjoyable navigation control options on the market.

"The new KEP Marine Dual Touch Display series represents a significant technology advancement in monitor operation and greatly enhances on-the-water navigation," said Keith Cariani, sales manager, KEP Marine. "With Window 7 OS systems supporting convenient touchscreen capabilities, we took the opportunity to complement our best and brightest display technology by offering the world's first multi-touch marine-grade LCDs with unparalleled functionality and quick fingertip control of navigation features."

The KEPM GB Dual Touch Displays look identical to KEP Marine's existing large-screen modern and sleek monitor offerings for a consistent design throughout a vessel, and feature the same renowned patented bonding technology that provides exceptional sunlight-viewing. Designed for open cockpits, flybridges and bright pilothouses, the glass bridge displays' small bezel and large screens maximize space savings at the helm while providing the largest screen size possible in the available space. KEPM GB monitors can be flush mounted side by side for a beautiful glass bridge appearance. Accepting multiple inputs including composite, S-Video, DVI, VGA, UXGA and SXVGA, the displays support simple custom labeling for organization and ease of use. Additional features include a wide backlighting range that can be dimmed to complete black for night viewing, advanced three-stage Picture in Picture (PIP) capabilities for display flexibility and a 12-24 VDC voltage input range. For added control options, the displays are compatible with RS-232 remotes that can be mounted near the display or hidden in cabinet space.

Compatible with Windows 7 operating system and designed to enhance the use of navigation software such as Furuno MaxSea and Nobeltec TimeZero Trident, the KEPM GB series consists of the KEPM GB-15 (15-inch), KEPM GB-17 (17-inch), KEPM GB-19 (19-inch) and KEPM GB-22 (22-inch) models. Featuring a color TFT Active Matrix LCD, the 15-, 17- and 19-inch monitors have a maximum resolution of 1280x1024 and the 22-inch widescreen model has a maximum resolution of 1680x1050. The KEPM GB-15, GB-17, GB-19 and GB-22 have display brightness and contrast ratios of 1500 nits/600:1, 1300 nits/500:1, 1000 nits/800:1 and 1100 nits/1200:1, respectively. The dual touch 15- and 17-inch displays provide a wide viewing angle of 80-degrees from center horizontally and 75-degrees from center vertically, while the 19- and 22-inch deliver the widest viewing angle on the market-85-degrees from center horizontally and vertically. Ultra ruggedized for the harsh marine environment, the displays are housed in a powder-coated, UV protected, marine-grade aluminum enclosure. KEP Marine Dual Touch Glass Bridge Displays are dust and water resistant to the IP66 standard, and are protected by a 2-year advanced replacement worldwide warranty.

The KEP Marine KEPM GB Dual Touch Glass Bridge Displays have suggested retail prices starting at $7,300 US, and can be purchased from authorized KEP Marine dealers and distributors throughout the United States and Canada. For more information on the new KEP Marine Dual Touch Glass Bridge Displays, or the entire line of KEP marine electronics, contact 800-631-2165 (toll-free) in the USA or visit www.kepmarine.com.

About KEP Marine:

KEP has designed and manufactured high-quality industrial hardware and software products for over fifty years. Entering the marine market ten years ago with innovative vessel monitoring systems, the company now offers industry-leading marine sunlight readable displays, glass bridge displays, monitor management interfaces, marine computers, multimedia systems, and video recording and security systems. Known for providing top-of-the-line, highly reliable products and integrated solutions, as well as unparalleled support and warranty protection, KEP works with over one hundred distributors and representatives worldwide. www.kepmarine.com

More from Fluid & Gas Flow Equipment