Dual-Sided Indexable Milling Cutter offers free cutting action.
Press Release Summary: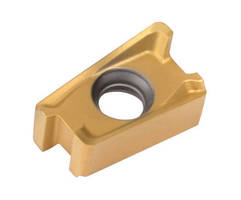 Accommodating 40-taper CAT and BT, HSK50, and similarly sized spindles, Mill 4-11 is suited for metal removal in less-than-rigid setups and on light-duty machine tools, multitaskers, and live-tool lathes. Insert design and precision minimize mismatch between passes. Using 2.48 in. dia tool and SGE geometry, product can achieve < 0 .00003 in. deviation between successive 0.236 in. deep passes. Cutter has uneven pocket spacing designed to break up machine harmonics and reduce chatter.
---
Original Press Release:
Stepping Down; Kennametal´s Successful Line of Mill 4 Indexable Milling Cutters Gains an Important New Member
Staying positive: with a unique insert geometry and extremely accurate pocket positioning, the Mill 4-11 offers the free cutting action of a single-sided insert at the low cost per edge of a double-sided. 

The issue with many square shoulder indexable milling cutters is the stair-step effect they leave on workpiece walls.

Two years ago, Kennametal introduced a double-sided 90º milling platform that eliminates this issue while providing manufacturers a cost-effective machining solution to boot. The Mill 4™ Series of indexable shoulder mills is now a proven performer, offering high metal removal rates, excellent tool life, and surface finish that frequently eliminates semi-finishing operations—and in some cases, can even be used as a finishing cutter, reducing reliance on expensive solid carbide end mills.

Kennametal is expanding its game-changing Mill 4 family with a new cutting tool, the Mill 4-11. Designed for smaller machining centers, the Mill 4-11 accommodates 40-taper CAT and BT, HSK50, and similarly-sized spindles. Due to its free-cutting capabilities, it is ideal for successful metal removal in less-than-rigid setups and on light-duty machine tools, multitaskers and live-tool lathes.

"What's unique about it is the step down," says Marshall. "Because of the insert design and precision, there´s very little mismatch between passes—for example, using a 63 mm diameter tool (2.48 in.) and our SGE geometry, we were able to achieve less than 8µm (0.00003 in.) deviation between successive 6 mm (0.236 in.) deep passes. One of our largest automotive customers completely eliminated a finishing operation on a steel alloy housing because of it, saving them many thousands of dollars annually."

Scott Etling agrees. The Director of Global Product Management for Indexable Milling, he says the Mill 4-11 platform offers a full complement of grades and geometries. "KCPM40 is our go-to grade for most steel applications and our newest KCSM40 is our first choice in aerospace and medical machining. Of course we have cast iron and aluminum grades, and a variety of edge preps and corner radii up to 1.6 mm (0.062 in.) as well. We´re very proud of this new offering."

The Mill 4-11 is also easy to use. Each insert is securely locked in place with a single M3 screw, and marked with a series of dimples to indicate geometry and insert style. Marshall recommends customers keep the tool clean and the screws lubricated with a small amount of grease, and says it´s a good idea to mount all of the inserts with the dimples or markings facing the same direction. "This improves accuracy during indexing, no matter whose cutting tools you´re using."

The cutter has uneven pocket spacing designed to break up machine harmonics and reduce chatter. Because of its complex insert geometry and positive placement in the pocket, it has an effective radial rake angle between 1° to 11°, depending on the cutter diameter, and an axial rake angle of 3°, this despite the Mill 4-11´s double-sided design.

When taking cuts up to approximately 6.5 mm (0.255 in.) axial engagement, the cutter is essentially "stepless", although Marshall says cuts up to 11 mm deep (0.433 in.) are possible while still maintaining square, smooth walls. Best of all, it removes material quickly. "We´ve performed extensive testing," Marshall says. "Time and again we beat the competition, in some cases by 35% greater metal removal rates and 40% or longer tool life. It´s quite simply a great addition to our portfolio."

The Mill 4-11´s has a complex, double-sided geometry that provides low cutting forces for light duty machine tools and less-than-rigid setups, and one of the lowest tooling costs per part in the industry

Kennametal
At the forefront of advanced materials innovation for more than 75 years, Kennametal Inc. is a global industrial technology leader delivering productivity to customers through materials science, tooling and wear-resistant solutions. Customers across aerospace, earthworks, energy, general engineering and transportation turn to Kennametal to help them manufacture with precision and efficiency. Every day nearly 12,000 employees are helping customers in more than 60 countries stay competitive. Kennametal generated more than $2.6 billion in revenues in fiscal 2015. Learn more at www.kennametal.com

Kennametal Inc.
1600 Technology Way
PO Box 231
Latrobe, PA 15650-0231
USA
Kathy LINDEN
Phone: 724 539 5698
Fax: 724 539 6766
kathy.linden@kennametal.com