Dual Razor Slitter is used in film and sheet extrusion.
Press Release Summary: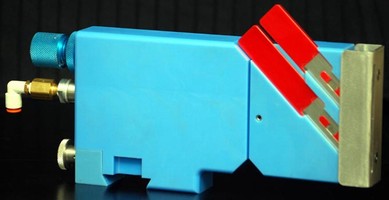 Designed to slit as narrow as 1.5 in., model DRS features completely guarded dual blades that, retracted or extended, reduce chance of operator injury. Because blades are held in place magnetically, either of them can be installed or removed without tools. They can also be changed without interrupting slitting process. Slitter mounts on standard dovetail bar, allowing retrofit to non-Parkinson winders. Other mounting options are also accommodated.
---
Original Press Release:

Parkinson Technologies Introduces New Slitter for Film and Sheet Extrusion



Woonsocket, RI (May 23, 2008) . . . Parkinson Technologies announces the release of its new model DRS dual razor slitter for film and sheet extrusion applications.

The new DRS features numerous improvements over other commercially available slitters. It is a low-maintenance, cost-effective alternative to more complex and typically expensive dual-slitter designs. Key features and benefits of the new Parkinson DRS include:

-Safety: the design of the DRS ensures that the dual blades are completely guarded whether they are retracted or extended, greatly reducing the chance of operator injury;

-Ease of Maintenance: either of the two blades can be installed or removed simply and without tools, as the DRS is designed so the blades are held in place magnetically. Also, the blades can be changed without interrupting the slitting process;

-Interchangeability: the DRS mounts on a standard dovetail bar, so it can be used as a retrofit slitter on other non-Parkinson winders. It can also accommodate other mounting options.

With a lower profile and more compact design than previous Parkinson slitters, the DRS is also designed to slit as narrow as 1.5".

"We wanted to develop a product that provided extruders with a reliable, safe slitter that is simple to maintain and greatly reduces downtime due to maintenance issues," said Ken Cavanagh, Vice President of Engineering at Parkinson. "While the slitter is a small part of the overall film extrusion line, it's an extremely important part that can shut an entire line down if it's not operating properly."

DRS Slitter Available for Customer Trials in In-House Pilot Lab

The new DRS slitter is available for use on customer trials in Parkinson's Marshall and Williams Plastics extrusion and orientation pilot facility. The Parkinson lab is the most complete film and sheet development laboratory commercially available for customer use. The state-of- the-art facility offers in-line extrusion for single layer or up to five layer film/sheet co-extrusion, machine direction orientation (MDO), and transverse direction orientation (TDO). Customers have the option of stretching their previously cast or blown roll stock or extruding film/sheet on site from their unique resin formulations. The lab line is designed to process a variety of polymers and under a wide range of processing temperatures, widths, speeds, and material thicknesses, providing customers with a unique opportunity to develop new products, optimize processing conditions, and generate samples for pre-marketing evaluation.

For more information on the Parkinson Technologies lab or to schedule a trial, call Ken Forziati, Business Development Manager at (401) 762-2100, e-mail mwlab@parkinsontechnologies.com. For more information on the DRS Slitter contact Ken Cavanagh at (401) 762-2100, e-mail kcavanagh@parkinsontechnologies.com.

About Parkinson Technologies Inc.

Parkinson Technologies Inc. is a leading designer and manufacturer of large-scale web-handling, winding and plastics processing equipment, and is the parent company for Marshall & Williams brand processing lines, Parkinson winders, and Key Filters screen changers. With a world-class pilot plant facility, Parkinson also offers its customers complete flexibility to conduct plastics sheet/film extrusion and orientation R&D and to produce commercially viable marketing samples. Parkinson's customers include a broad range of companies, from venture-backed startups to Fortune 50 enterprises, all of whom demand innovative solutions to their web processing challenges.

More from Machinery & Machining Tools