Dual Range Gloss Meter offers ultra high gloss measurement.
Press Release Summary: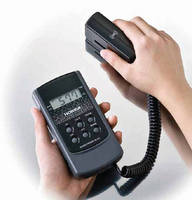 Offering 2 user-selectable measurement ranges, Model IG-410 measures low gloss samples using 0-100 range and high gloss samples, such as polished metal and mirror finishes, using 0-1,000 range. Portable, battery-operated instrument is supplied with 2 calibration plates, which allow one-touch calibration for reproducible results.
---
Original Press Release:

IG-410 High Gloss Meter



Dual range checker for Gloss and Ultra High Gloss measurement

A measurement standard for the gloss value

Gloss value 100 is defined as specular reflectance in incident angle of the gloss of reflectance index 1.567. With incident angle = 60°, specular reflectance is 10%, or gloss value 100. Consequently gloss in specular reflectance 100% is calculated as 1000. Reflectance in many polished metals is 50% or more, some are 90% or more. Then measurement range is expanded up to 1000 in IG-410.


Latest model Gloss Checker now checks Ultra high gloss surface finishes

The new IG-410 now measures ultra high gloss surfaces such as polished metal. The meter
has ten times greater measurement range than the conventional model. Now even mirror
finishes can be measured too.


Compact, lightweight and detachable probe design

Weighing in at only 1.3 lbs (350g), this battery operated instrument is designed to be portable.

Fast and reliable measurement by simple one-touch operation. LED light sources give
<100,000 hours service and therefore no need to replace.


Dual range extends measurement resolution in the low gloss range

The IG-410 has two user-selectable measurement ranges, depending on the sample to be
measured.

Low gloss samples can be measured using the 0-100 range and high gloss samples can be
measured using the 0-1000 range. Two calibration plates are provided to allow the user to follow a simple one-touch calibration procedure to ensure reproducible results.

More from Electrical Equipment & Systems