Dual Modes Bluetooth Modules support BLE v4.0, Classic standards.
Press Release Summary: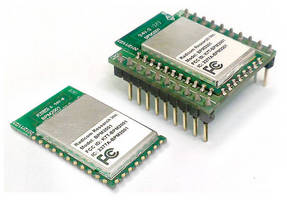 Controlled via HCI (Host Controlled Interface) BlueCore BCCMD Commands, RB2001 series provides fully qualified Bluetooth v4.0 system for data and voice communications. Bluetooth® modules, in addition to v4.0 BLE, Classic BR/EDR, and High Speed v3.0, support serial UART, PCM, I²S, and optional USB interfaces. Designed to work with Linux or Windows® OS, modules come in SMT and DIP (Through-Hole) variants that are FCC, IC, and CE certified and operate from -30 to +85°C.
---
Original Press Release:

Introducing V4.0 BLE and Classic Dual Modes Bluetooth Modules from Radicom Research



Host Control Based, Featuring UART, I2S, PCM and USB Interfaces, FCC, IC and CE Certified.



SAN JOSE, CA. – Radicom Research, a modem industry leader, announced today the release of their RB2001 family Bluetooth modules that support Bluetooth BLE V4.0 and Classic standards.



The RB2001 series Bluetooth modules are based on CSR's latest Host Controlled Interface (HCI) solution. It provides a fully qualified Bluetooth V4.0 system for data and voice communications. The RB2001 Bluetooth modules are controlled via CSR's Host Controlled Interface (HCI) BlueCore BCCMD Commands. It supports V4.0 BLE. Classic BR/EDR and High Speed V3.0.



The RB2001 modules support serial UART, PCM, I²S and optional USB interfaces. With unique Wideband Speech, improved CODEC and a reduction of background noise and interface built in, the RB2001 offers a dramatic improvement to call quality with wireless accessories.



These modules are designed to work with Linux and Windows operating systems. The RB2001 is a HCI command based device.  OEM's can use PSK setting to configure their desired parameters via firmware provided inside CSR chipset.  All the upper layer code runs at the host side via standard HCI commands plus the extension BCCMD from CSR.



The RB2001 is a SMT module. The RB2001HM is a DIP (Through-Hole).  All RB2001 modules have been FCC, IC and CE certified.  Featuring –30°C to +85°C operating temperature, the RB2001 modules are designed and built for a variety of industrial OEM applications.



Features:

• Fully qualified Bluetooth Bluetooth® v4.0 system

• Full-speed Bluetooth operation with full piconet and scatternet support

• Class 2 Bluetooth power level supported

• High-sensitivity Bluetooth receiver

• Wideband speech

• A-law, ì-law and linear voice data from Host

• A-law, ì-law, and CVSD voice over the air

• Voice interpolation for lost packets

• Rate mismatch correction

• PCM/I2S digital audio interface

• Fast AGC for enhanced dynamic range

• SBC encoding

• Integrated synthesizer requiring no external VCO varactor diode, resonator or loop filter

• 3 Bluetooth low energy connections at the same time as basic rate A2DP

• Low-power 3.3V (optional 1.8V) I/O

• Serial Interface (RB2001)

• USB interface (RB2001U)

• Full-speed (12Mbps) USB 2.0 interface (RB2001U)

• High-speed UART port (up to 4Mbps)

• Support for IEEE 802.11 coexistence

• Digital demodulator for improved sensitivity and co-channel rejection

• Real time digitized RSSI available on HCI interface

• Dual-mode Bluetooth low energy radio



Pricing & Availability:

Samples of RB2001, RB2001U, RB2001HM and RB2001UHM are available now, on a first comes first served basis. The pricing starts at US$18.00 each in quantity of 250 pieces. Bulk discounts are available for higher OEM volume requests.



Custom Engineering:

Radicom Research's focus on embedded module-based data communications products for OEM's has resulted in a reputation for design excellence and product flexibility. Our team can modify the code and re-layout any product in the family to a custom footprint and deliver working samples in only two to three weeks.



About Radicom Research:

Founded in 1993, Radicom Research develops reliable, quality, easily integrated dial-up and wireless modems at competitive prices. Headquartered in San Jose, California with offshore manufacturing capabilities, Radicom specializes in designing and manufacturing embedded modem modules for OEM, including design modifications and custom products to meet specific requirements and unique needs.



OEMS and product designers are invited to contact Radicom Research for consultation and assistance in implementing Radicom's embedded modem modules to efficiently meet their system applications.



Phone: 1-408-383-9006, ext. 112

Fax: 1-408-383-9007

Email: sales@radi.com

Related