Miscellaneous Distribution Systems
Dual Link Extenders transport 2 K video over coax and fiber.
Press Release Summary: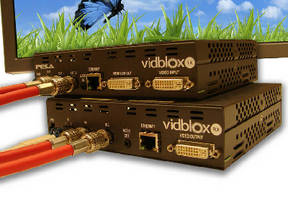 Designed to extend high-resolution, computer-based content to/from broadcast serial digital equipment, Vidblox 2K Transmitter and Receiver pairs support coax, fiber, or copper/fiber connectivity, which can distribute multiple 2K video signals simultaneously. Video resolutions up to 2,560 x 1,600 at 60 Hz are supported via DVI-D dual link connector, with analog stereo embedded in video transport. Looping DVI-D output on local TX module allows monitoring to check video content and image quality.
---
Original Press Release:

PESA Debuts Vidblox 2K Series of Extender Modules



Huntsville, Alabama – PESA, a leading U.S.-based custom design and build manufacturing company for professional audio and video signal distribution, today announced its new series of Vidblox 2K dual link extenders, which transport 2K video over coax and/or fiber. Vidblox 2K units extend high-resolution, computer-based content to or from broadcast serial digital equipment.



Each Vidblox 2K transmitter (TX) and receiver (RX) pair supports coax, fiber, or both copper/fiber connectivity, which can be used to cost effectively distribute multiple 2K video signals simultaneously. Video resolutions up to 2560x1600@60Hz are supported via a DVI-D dual link connector, with analog stereo embedded in the video transport.



For added value, Vidblox 2K modules can be combined with PESA's full line of 3G-SDI routing switchers for 2K distribution and switching systems up to 288x288. On the local TX module, a looping DVI-D output allows quick monitoring status to check video content and image quality, and each Vidblox 2K can be networked for remote control using PESA's Cattrax network control software.



"Vidblox 2K are simple, inexpensive devices that can take the place of multiple components and solve a number of integrator challenges for ultra high-resolution video," said Dan Holland, PESA vice president of product marketing. "The new Vidblox 2K extenders create the perfect 2K distribution path between computers and HD video broadcast gear."



About PESA

As a leading provider of audio/video connectivity, PESA offers a wide selection of routing switchers, matrix switchers, extenders, converters, media extenders, and signal processing gear to support government, military, industrial, commercial, broadcast and mobile truck applications. PESA offers one of the widest ranges of AV products – from large scale fiber optic routing to single-point CAT-5 DVI extenders – each with the integrity and innovative high performance technology expected from PESA. Our products are available around the world from a leading team of channel partners offering local support and installation; and all of our products are supported by 24/7 technical support. To learn more about our technologies and services visit www.pesa.com. PESA is located in Huntsville, Alabama with regional offices throughout the United States.



All products mentioned herein are trademarked property of their respective owners.



Company Contact

Dan Holland

VP, Product Marketing

256-726-9200

dholland@pesa.com

More from Controls & Controllers