Pyrometers and Infrared Thermometers
Dual-Laser IR Thermometer offers color-coded alerts.
Press Release Summary: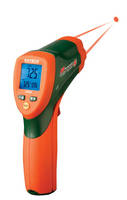 Extech 42509 features dual laser pointers to identify 12 in. convergence distance, at which they indicate 1 in. dia measurement spot size. Audible alarm is complimented by illuminated display that changes from blue for normal conditions to red during alarm conditions, which helps user focus on identifying anomalies without constantly evaluating temperature values. Measuring temperatures up to 950°F with 150 ms response time, rugged unit is CE-approved and includes 9 V battery.
---
Original Press Release:

Extech Adds Dual-Laser IR Thermometer with Color Alert



Fast-responding alarm triggers display change from blue to red

(Waltham, MA, USA) Extech Instruments (www.extech.com/instruments), makers of the best handheld test and measurement tools, adds a new infrared thermometer that features dual laser pointers to identify the 12" convergence distance and an innovative alert system that changes the display color when an alarm is triggered.

The affordable new Extech 42509 is also Extech's fastest-responding IR thermometer with a 150 millisecond response time, helping users quickly identify temperature spikes or scan multiple locations. The new Extech thermometer features a useful alarm to alert a user when a temperature exceeds a custom high or low set point. An audible alarm is complemented by a brightly illuminated display that changes from blue for normal conditions to bright red for alarm conditions. This new color-coded functionality allows a user to scan an area and focus on identifying anomalies without constantly evaluating specific temperature values.

The rugged, new Extech IR thermometer is designed with a double-molded housing and is ideal for processes that require temperature control and monitoring in a wide-ranging applications including industrial mechanical and electrical diagnostics; process control in manufacturing; food, beverage and confectionery quality control; as well as asphalt manufacturing, storage and road construction.

The 42509 features a dual laser pointer system to optimize use of its 12:1 distance to target ratio. At a 12" distance, the laser points indicate a 1" diameter measurement spot size-the recommended distance for most measurements. For closer or farther distances, the dual-lasers illustrate how wide or narrow the measurement spot diameter changes based on the user's distance.

Designed for high temperatures, the high-accuracy Extech measures up to 950°F (510°C). Adjustable emissivity increases the measurement accuracy for a variety of surfaces. When scanning rapidly changing temperatures, the convenient MAX mode captures and holds the highest value during a scan while the HOLD feature freezes the most recent reading on the display. For improved ergonomics during long-term monitoring or for hands-free use, the lock function permits continuous readings without use of the trigger.

The Extech 42509 is CE approved and comes complete 9V battery and soft carrying case. The new IR thermometer is available now from stocking distributors with a suggested retail price of $89.99. A NIST certified model is also available (42509-NIST). To learn more, or to find a distributor, please visit http://www.extech.com/instruments.

About Extech Instruments

Extech Instruments is recognized as the source for the best handheld test and measurement tools worldwide. Founded in 1971, Extech is known for its depth and breadth of innovative testers and meters suited for electrical, HVAC, building/restoration, as well as a host of environmental testers for measurement of sound, light, humidity and other factors. All Extech meters are distributed worldwide through leading representatives, distributors and OEMs. The company is headquartered in Waltham, Massachusetts, USA and is ISO 9001 2000 certified. Extech is a wholly owned subsidiary of FLIR Systems, Inc.

Attention Publishers:

Please send all sales leads to Tracy Milhomme, Marketing Communications Coordinator,
Extech Instruments, 285 Bear Hill Rd., Waltham, MA 02451 USA

Phone: 781-890-7440; Fax: 781-890-7864

Email: tracy.milhomme@extech.com

More from Fasteners & Hardware