Dual Gate Driver ICs operate from 4.5-35 V.
Press Release Summary: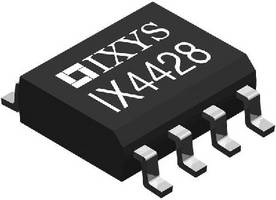 Available in 8-lead SOIC package, Model IX4426 is configured as dual inverting driver, while Model IX4427 is configured as dual non-inverting driver, and Model IX4428 is configured with one inverting and one non-inverting driver. Each output is capable of sourcing and sinking 1.5 A. Inputs are TTL and CMOS compatible as well as immune to latch-up. Operating from -40 to +125°C, ICs are suitable for driving power MOSFETs in switching power supplies, motor controls and DC to DC converters.
---
Original Press Release:

IXYS Integrated Circuits Division offers 3 New Low Cost 1.5A Gate Drivers



The IX4426, IX4427 and IX4428 Extends IXYS ICD's Gate Driver Portfolio, offering a wide operating voltage range of 4.5V to 35V



Beverly, Massachusetts, USA – IXYS Integrated Circuits Division (ICD), Inc., a wholly owned subsidiary of IXYS Corporation (NASDAQ: IXYS), announces the immediate availability of the IX4426, IX4427, and IX4428 low-cost dual low-side gate driver ICs.  Each of the IX4426/7/8 outputs are capable of sourcing and sinking 1.5A, and they have a wide operating voltage range of 4.5V to 35V, which is much higher than competitive parts.  The inputs of each driver are TTL and CMOS compatible, and are virtually immune to latch-up.  The IX4426/7/8 are specified with an operating temperature range of -40°C to +125°C.



The IX4426 is configured as a dual inverting driver; the IX4427 is configured as a dual non-inverting driver; and the IX4428 is configured with one inverting and one non-inverting driver.  All versions have an industry standard pinout, and are available in an 8-lead SOIC package.  The IX4426N, IX4427N and IX4428N devices are lower cost drop in replacements for various competitive 1.5A gate drivers, while providing a much higher 35V operating capability.



The low cost IX4426/7/8 are well suited for driving power MOSFETS in switching power supplies, motor controls, and DC to DC converters.  The IX4426/7/8 are added to IXYS ICD's extensive gate driver IC portfolio, which includes its popular IXD_600 series of low side gate driver ICs.  The IXD_600 series offers gate drivers rated from 2A up to 30A



These families of gate drivers are compatible with IXYS' Zilog MCUs for digital power control, with IXYS' families of rugged power MOSFETs and IGBTs. The IX446/7/8 devices are available in production quantities.



Pricing and Availability

The IX446/7/8 are available in production quantities. Pricing for OEM quantities of 25KU is $0.32 each.



For additional information, please contact your local sales representative: http://www.ixysic.com/home/pages.nsf/locate.rep or visit http://www.ixysic.com/home/pdfs.nsf/www/IX4426-27-28.pdf/$file/IX4426-27-28.pdf for the datasheet.



About IXYS ICD and IXYS, Inc.

IXYS Integrated Circuits Division, a leader in the design and manufacture of solid state relays and high voltage integrated circuits, is a wholly owned subsidiary of IXYS Corporation. IXYS Corporation develops and markets primarily high performance power semiconductor devices that are used in controlling and converting electrical power efficiently in power systems for the telecommunication and internet infrastructure, motor drives, medical systems and transportation. IXYS also serves its markets with a combination of digital and analog integrated circuits, power systems and RF GaAs and GaN based products. Additional information about IXYS Integrated Circuits Division and IXYS may be found at www.ixysic.com and www.ixys.com.



Catherine Austin

IXYS Integrated Circuits Division (formerly Clare)

Product Marketing Manager

More from Packaging Products & Equipment