Dual Function Varistor/Capacitor saves board space.
Press Release Summary: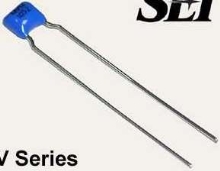 With response times of less than 25 ns, dual-function MV Series protects electronic equipment operating in low-voltage regions against voltage surges and high frequency noise. It incorporates varistor with dc voltage range from 3-125 V and by-pass capacitor with capacitance range of 10-1,000 nF. Available in 6 x 9 mm package, series withstands single pulse surge current of 150 A and demonstrates single pulse energy absorption of 0.1-2.5 J.
---
Original Press Release:

New Varistor Technology from Stackpole Offers Space and Component Cost Savings


Dual function Varistor/Capacitor protects against voltage surges and high frequency noise...

RALEIGH, N.C. (March 16, 2005) - Stackpole Electronics, Inc. has introduced a dual function device, which protects electronic equipment operating in a low voltage region against voltage surges and high frequency noise, replacing two components -- a low voltage varistor and a capacitor.

The MV Series incorporates a varistor in the DC voltage range from 3V to 125V, and a by-pass capacitor operating in the capacitance range of 10nF to 1000nF. The MV Series is rated from -40ºC to +85ºC and exhibits excellent response times of less than 25ns.

The MV Series of varistors are square shaped components with in-line leads, requiring at least 30% less mounting space than the two components they replace. They are available in one size, 6mm x 9mm, with straight or crimped leads. The MV Series is able to withstand a single pulse surge current (Ip) of 150 amps (8/20 µsec waveform) and demonstrate single pulse energy absorption (Wmax) of 0.1 Joules to 2.5 Joules (10/1000 µsec Waveform).

The MV Series is intended for protection of all sensitive electronic devices experiencing both voltage transients and high frequency noise produced by electromechanical devices, such as buzzers and relays.

Regarding the use of the MV Series, Stackpole's Director of Sales & Marketing, Rob Hudspeth commented, "The MV Series is a truly innovative design by our engineering group. This technology reduces component count and cost - two very important considerations in this age of efficiency."

Applications for the MV Series' include: Electrostatic Surge Absorption, Relay Surge Suppression Effect and Relay Reset Time, and Piezoelectric Buzzer Shock Noise Absorption.

The MV Series is available in bulk, ammo pack, and tape and reel in 2000 piece quantities. Pricing for 2000 piece quantities is $0.25 each.

For more information about Stackpole products, contact Stackpole Electronics Inc. at 3261 Atlantic Avenue, Raleigh, N.C. 27604; phone 919-850-9500; fax 919-850-9504; email marketing@seielect.com; or visit the Web site at www.seielect.com.

Stackpole Electronics Inc. is a leading global manufacturer of resistors supplying to the world's largest OEMs, contract manufacturers and distributors. Headquartered in Raleigh, N.C., the privately held company began manufacturing in 1928 as part of Stackpole Carbon Company in St. Mary's, Pennsylvania. Now affiliated with Akahane Electronics, Stackpole has manufacturing facilities in Japan, Taiwan, China and Mexico; warehousing facilities in El Paso, Guadalajara, Hong Kong and Japan; and sales offices in Tokyo, Hong Kong and Taiwan.

More from Agricultural & Farming Products