DC to DC Power Supplies (Converters)
Dual DC/DC Converter suits handheld applications.
Press Release Summary: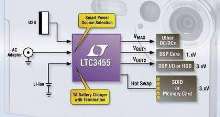 Model LTC3455 contains 2 synchronous step-down DC/DC converters with 95% efficiency each, USB power controller, Li-Ion battery charger, Hot Swap(TM) output, and low-battery indicator. PowerPath(TM) controller enables seamless transition between Li-Ion battery, USB, and 5 V wall adapter power sources. Current limiting of 500 mA/100 mA ensures that USB power path is not overloaded. Unit's 4 x 4 mm QFN package fits in space-constrained applications.
---
Original Press Release:

Dual DC/DC Converter with USB Power Manager & Li-Ion Battery Charger Provides a Complete Power Management Solution in a 4mm x 4mm Package


MILPITAS, CA - April 14, 2004 - Linear Technology announces the LTC3455, a complete power management solution for handheld applications. The LTC3455 contains two synchronous step-down DC/DC converters, USB power controller, full-featured Li-Ion battery charger, Hot Swap(TM) output, low-battery indicator and numerous internal protection features. The LTC3455 provides a small, simple, and highly efficient solution for obtaining power from three different power sources: single cell Li-Ion battery, USB port and wall adapter. Current drawn from the USB bus is accurately limited under all conditions to comply with USB specifications. Whenever USB power or a wall adapter is present, the battery charger is enabled and all internal power for the device is automatically drawn from the appropriate external source. Its 4mm x 4mm QFN package ensures a tiny solution footprint for space-constrained handheld applications.

Unlike alternative products, the LTC3455 utilizes a PowerPath(TM) controller to enable a seamless transition between Li-Ion battery, USB, and 5V wall adapter power sources. This eliminates the significant power losses that are found in conventional designs. Accurate current limiting (500mA/100mA) ensures that the USB power path is not overloaded. Each synchronous step-down DC/DC converter offers up to 95% efficiency to maximize battery run-time. As many handheld systems require onboard SDIO and memory card ports, the LTC3455 has 150mA Hot Swap output in order to accommodate these requirements. Burst Mode® operation reduces supply current to only 100uA to maximize light load efficiency, but it can be disabled via an external pin if very low switching noise is required. Finally, the LTC3455 offers true output disconnect in shutdown, leaving all outputs discharged to ground enhancing system reliability.

The LTC3455 is available from stock in a 4mm x 4mm x 0.75mm QFN-24 package. Pricing starts at $3.95 each for 1,000-piece quantities.

Summary of Features: LTC3455
Seamless Transition Between Input Power Sources: Li-Ion Battery, USB, and 5V Wall Adapter
Accurate Current Limiting (500mA/100mA)
Dual High Efficiency DC/DC Converters: Up to 96%
Full-Featured Li-Ion Charger
Hot Swap Output for SDIO and Memory Cards
Pin Selectable Burst Mode Operation: IQ<100uA
True Output Disconnect: All Outputs Discharged to Ground During Shutdown
Available in 4mm x 4mm x 0.75mm QFN-24 Package

Company Background
Linear Technology Corporation was founded in 1981 as a manufacturer of high performance linear integrated circuits. Linear Technology products include operational, instrumentation and audio amplifiers; voltage regulators,power management devices, DC-DC converters and voltage references; comparators; monolithic filters; communications interface circuits; one-chip data acquisition sub-systems; pulse-width modulators and sample-and-hold devices; and high frequencydevices. Applications for Linear Technology's high performance circuits include wireless and broadband telecommunications infrastructure, cellular telephones, networking products and satellite systems, notebook and desk top computers, computer peripherals, video/multimedia, industrial and medical instrumentation, automotive electronics, factory automation, process control, military and space systems, and high-end consumer products including digital cameras, MP3 players and other electronic products.

READER SERVICE: Call toll-free 1-800-4-LINEAR (for literature only), or go to the company's web site: www.linear.com

Related