Dual Connectivity Rugged Keyboards come with integrated battery.
Press Release Summary: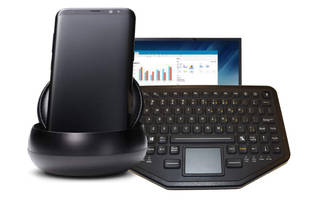 Offered in BT-870-TP and BT-870-TP-SLIM models, Dual Connectivity Rugged Keyboards are compatible with Samsung DeX™ station. Units offer connectivity through Bluetooth™ and USB. BT-870-TP is made from industrial silicone and highly mobile at 2.03 in. depth and is IP67 rated. BT-870-TP-SLIM keyboard comes in 0.85 in. depth. Keyboards are suitable for police car and hotel room applications.
---
Original Press Release:
iKey Announces Shipping Of New, Dual Connectivity Rugged Keyboard, BT-870-TP As Part Of Mobile Solution With Samsung DeX™
iKey, LTD announces its first Samsung solution shipments of the new iKey dual connectivity rugged keyboard, the BT-870-TP. The new keyboards are being paired with the Samsung DeX™ station. Geared to the needs of public safety for law enforcement vehicles, the dual connectivity, sealed keyboard is unique in its class of rugged peripherals, with an integrated battery, and connectivity through Bluetooth™ and USB.
The Samsung DeX™ station is designed to connect the Galaxy S8 or S8+ smartphone to any HDMI-output monitor, creating a rich desktop-like experience. When paired with the BT-870-TP keyboard and a 13.3" flat panel display from iKey, IK-KV-13.3W, the police vehicle has a workstation that rivals any desktop solution.
For more information on this solution, see: http://www.ikey.com/dex-keyboard-solution/
"Dual connectivity is what we hear our customers asking for; they want both USB and Bluetooth for reliability, not just Bluetooth," comments Steven Meyer, CEO of iKey. "Device interference is common and dual connectivity will solve that. We help police do their job with no downtime," he adds.
Customers for the dual connectivity keyboard include public safety and law enforcement vehicles, EMS vehicles, first responders, fire trucks, and other public safety vehicles. Companies that manage fleet vehicles are also an excellent fit for this keyboard.
The BT-870-TP is a compact, sealed, mobile keyboard made of industrial silicone. It is rated IP67. The keyboard is highly mobile, at 2.03" depth. For an even smaller version, iKey also offers a SLIM profile model, BT-870-TP-SLIM, at 0.85" depth.
iKey manufactures and distributes its rugged peripherals directly and through global distributors and value-added resellers. iKey designs and assembles at its corporate office in Austin, Texas. iKey is known around the world as an industry leader in rugged peripherals and has a 28-year history of rugged product in the field. Every keyboard and display is customized to a specific industry segment or customer. For more information, visit: www.ikey.com
About iKey
iKey, LTD is THE rugged peripherals industry leader and manufacturer located in Austin, Texas. The company designs and customizes rugged keyboards, mice, pointing devices and displays for many industry segments including power/energy/utilities, industrial manufacturing, public safety, medical, fleet, mobile and kiosk. iKey has been in business for more than 28 years and we manufacture products that are "Real Tough for Real Life."™
Contact:
Cathy Veri
Marketing Consultant
iKey, LTD
Cell: 512 650 0698
Office phone: 512 330 4900
Email: cathy@ikey.com
More from Material Handling & Storage