Pyrometers and Infrared Thermometers
Dual Channel Pyrometer is offered with RS-232 interface.
Press Release Summary: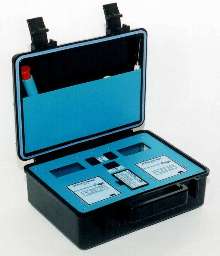 Suited for use with type K and J thermocouple sensors, instrument records temperature readings and downloads directly to PC via RS-232 computer interface. Sensors plug into back of instrument as to not interfere with front panel visibility. Unit simultaneously shows temperature output from sensors on 2 different and independent displays in 1/2 in. tall digits. Temperature ranges include -280 to +1,100°F ±1°F (J) and -280 to +2,000°F ±1°F (K).
---
Original Press Release:
Dual Channel Pyrometer with Optional RS-232 Computer Interface

Electronic Development Labs, Inc. is proud to announce the development of our Dual Channel Pyrometer with optional RS-232 computer interface. The DCP truly combines two instruments into one. The DCP is a simple and efficient pyrometer for use with both type K and J thermocouple sensors.

The newest feature, the optional RS-232 computer interface, allows the recording of temperature readings and direct download to any PC providing valuable data for analysis. Data can then be imported into Excel or other programs for use in charts, graphs or tables.

The instrument is housed in a tough, water resistant injection molded case with o-ring and latching cover. In addition, the latching lid holds the instruction booklet and supplied J and K sensors with coil cords. The sensors plug into the back of the instrument so they do not interfere with visibility of the front panel.

This instrument displays the temperature output from the sensors simultaneously, on two different and independent displays. Each channel is truly independent of the other insuring complete isolation between channels. This instrument has a flat panel and each display features a 1/2" tall digit height for easy and fast readability. The DCP is capable of measuring temperatures over the range of -100°C to +600°C ± 1°C (-280°F to +1100°F ±1°F) J and -100°C to +1200°C ±1° (-280°F to +2000°F ±1°F) K. The instrument comes packaged with a type K and a type J needle sensor with high temperature 0.072" diameter, 2" long needle with a coil cord and mini thermocouple plug, however, all types of J and K sensors may be used. The DCP has a 333 millisecond update rate. The reliable CMOS circuitry gives stable readings and performs well in the presence of EMI and RFI.

The DCP is truly a portable, high quality instrument that is designed and built for industrial and commercial applications, useable over the extended ambient temperature range of -20°F to +175°F. This instrument is recommended wherever there is an application where thermocouples of both types must be used. This instrument is traceable to the National Institute of Standards Technology.
More from Electrical Equipment & Systems