Dual-Channel Modem connects Ethernet devices over coax or UTP.
Press Release Summary: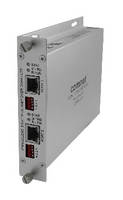 Featuring 2 standard BNC connectors, 2 terminal blocks, and 2 standard RJ-45 Ethernet connectors, Model CNFE2CL2MC allows Ethernet-based equipment to be connected over 75 W coaxial cable or unshielded twisted pair telephone wire. Unit can extend distances between devices to as much as 500 m on coaxial cable or up to 3,000 m on UTP. Featuring environmentally hardened design, modem operates in environments with extremes in temperature and vibration.
---
Original Press Release:

ComNet Solution Allows Existing Copper Infrastructure be Utilized for New Ethernet Network Installations



ComNet Model Allows Ethernet Network Devices to be Connected by Existing CCTV Coax or UTP

Danbury, CT. - ComNet, Communication Networks of Danbury, Connecticut, a leading provider of fiber optic and Ethernet network solutions has introduced a new two-channel model that allows Ethernet based equipment to be connected over non-traditional media. ComNet has introduced the CNFE2CL2MC, a dual version that allows two separate Ethernet inputs and transports it over 75W coaxial cable or twisted pair telephone wire as follow up to the successful CNFE1CL1MC. This new dual package solves density challenges, by allowing two separate channels be accommodated in one ComNet product unit. The benefit to the user is that in many installations, CCTV cable or telephone twisted pair is already in place for surveillance cameras, camera control or telephone systems. By using the ComWorx(TM) CNFE2CL2MC, existing 75W cable or UTP can now transport Ethernet data from different security devices to a network. Ethernet over coaxial cable or twisted pair also offers the additional benefit of extended distances versus traditional Cat5/6 cable.

The CNFE2CL2MC can extend distances between devices to as much as 500 meters on Coaxial Cable or up to 3000 meters on twisted pair. Each unit contains two standard BNC connectors, two terminal blocks and two standard RJ-45 Ethernet connectors. This environmentally hardened Ethernet device is designed to operate in environments where extremes in temperature and vibration are a consideration.

"The ComWorx(TM) CNFE2CL2MC was initiated as a solution to allow the end user to control cost by enabling them to utilize existing media for an Ethernet network", said Andrew Acquarulo, ComNet President and COO. " Our customers were telling us that in many instances where additions and improvements were being made, there were legacy CCTV or phone systems already in place. In today's challenging economy, using a simple solution such as the CNFE2CL2MC, gives the end-user or system integrator an option of controlling cost by utilizing perfectly good transmission media instead of incurring the expense of installing an all new traditional Ethernet media", Acquarulo concluded.

"With the introduction of the ComWorx(TM) product line, we are just continuing to round out what is a very complete Ethernet product line," said Skip Haight, ComNet VP of Marketing. But the difference between ComNet and the other suppliers is the customer care experience we offer. ComNet is a complete full-service company and not just a product line. From the initial contact forward, our customers will be truly delighted by how good the customer experience is, " Haight continued.

ComNet offers an extensive line of fiber optic video and data transmission equipment as well as a line of Ethernet Network equipment that is uniquely toughened to meet the needs of the Security and Intelligent Transportation System market. Full product line details are available at www.comnet.net. Call direct 203-796-5300 or email sales@comnet.net for details.

For more information, please contact Skip Haight at 203.796.5340; or e-mail ComNet at marketing@comnet.net. You may also find ComNet on the World Wide Web at www.comnet.net. Electronic files of this release and photos of ComNet products are available by contacting the ComNet Marketing Department via e-mail at fhaight@comnet.net.

More from Portable Tools