Dual-Chamber Electric Box Furnace for Heat-Treating Shop in Manufacturing Facility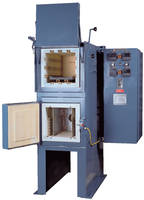 L&L Special Furnace Co. has shipped a dual-chamber heat-treating and tempering furnace to a leading global manufacturer of shopping carts and display cases located in the southeastern U.S. The equipment will play a supportive role in keeping key production equipment on-line along with thermal processing of various projects.
The L&L model QDS124 has two chambers: the top chamber rated to 2,350°F is used for heat-treating various steels and other non-ferrous materials; the bottom chamber rated to 1,250°F includes a recirculation fan and baffle for tempering, stress relieving or preheating.
The effective work zone of the top chamber is 10" high by 11" wide by 22" deep, with the tempering chamber work zone being 10" high by 10" wide by 20" deep. The furnace is controlled by Eurotherm controls with overtemperature protection. The top and bottom chambers are sealed for use with inert atmosphere and include a manual flowmeter/regulator system for both chambers. Solid-state relays drive the heating circuits and are housed in a side-mounted NEMA1 panel. The furnace was painted with custom colors to match the customer's existing equipment.
Shipped with the furnace was an accompanying QTO1224 oil quench tank. The quench tank has a working size of 12" high by 12" wide by 24" deep and holds 65 gallons of oil. Included is a hinged safety lid, immersion-style heater with thermostat, and an agitator with explosion-proof motor for deployment with oil. Provisions are offered for additional oil to the air cooler if needed. The quench tank and furnace are NFPA86-compliant for safety.
All L&L Special furnaces can be configured with various options and be specifically tailored to meet your thermal needs. The company also provides furnaces equipped with pyrometry packages to meet ASM2750.
Options include a variety of control and recorder configurations. A three-day, all-inclusive startup service is provided with each system within the continental U.S. and Canada. International startup and training service is available by factory quote.
If precise temperature control and uniformity is key to your process, then L&L's QDS/QT series is a great choice. Please be sure to visit our new website at www.llfurnace.com.
For Immediate Release, Contact:
Thomas Schultz
Sales Manager
L&L Special Furnace Co.
P.O. Box 2129
Aston, PA 19014
Phone: +1-610-459-9216
FAX: +1-610-459-3689
Email: [email protected]
Web: www.llfurnace.com