Dual-Band Wi-Fi Antenna on 2.4 and 5.8 GHz ISM bands.
Press Release Summary: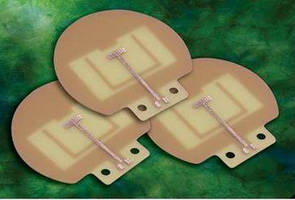 Wi-Fi Pro Dual Band Antenna withstands harsh, noisy, or electronically sensitive environments and provides 100% bandwidth across ISM band. Product achieves peak gain of 3.0 dBi and 50 W impedance and is omni-directional in free space. Withstanding temperatures from -55 to +85°C, linear antenna is also designed to meet IEEE802.11n-(x) standards. It measures 2 in. across and mounts via coax and connector, connectorized or direct mount.
---
Original Press Release:

New Wi-Fi Pro Dual Band Antenna Operates on 2.4 and 5.8GHz ISM Bands



Fairview, PA - Spectrum Advanced Specialty Products introduces a new high performance antenna designed to withstand harsh, noisy or electronically sensitive environments and provide 100% bandwidth across the ISM band. Able to operate on ISM 2.4 and 5.8 GHz bands, the Wi-Fi Pro Dual Band antenna allows for the versatility needed in applications such as radio frequency identification, military Wi-Fi wireless LAN, mission-critical machine-to-machine operations, high performance imbedded commercial Wi-Fi and medium range data exchange. At only 2 in. in size, the linear Wi-Fi Pro Dual Band achieves a peak gain of 3.0 dBi and 50 W impedance.

The Wi-Fi antenna is omni-directional in free space. Mounting options include coax and connector, connectorized or direct mount. The Wi-Fi Pro Dual Band withstands temperatures ranging from -55°C to +85°C. Additionally, the antenna is designed to meet IEEE802.11n-(x) standards.

The Wi-Fi Pro Dual Band Antenna joins a family of antennas and assemblies offered by Spectrum. As the industry's only true vertically integrated antenna solutions and systems provider, Spectrum is able to develop and produce an antenna from concept through in-house manufacturing, saving time and money. Spectrum produces a range of antenna types, including aperture, slot, loops, spiral, planar, switched arrays, EBAs, beam-forming static, cavity backed and custom network/baluns.

About Spectrum Advanced Specialty Products:

Spectrum Advanced Specialty Products produces coaxial filters & interconnects, advanced ceramics, antennas & assemblies, specialty connectors & harnessing and power filters & film modules. Spectrum Advanced Specialty Products is a Spectrum Control Business.

About Spectrum Control:

Spectrum Control, an ISO 9001:2000 certified company, is comprised of four businesses: Advanced Specialty Products, Sensors and Controls, Power Management Systems, and Microwave Components and Systems.

Spectrum Microwave produces a wide range of microwave components and systems. Products include microwave filters, amplifiers, mixers, voltage-controlled oscillators (VCO's), dielectric resonator oscillators (DRO's) and a wide range of RF & microwave systems & assemblies.

Spectrum Sensors & Controls Precision Positioning Sensors Operation produces potentiometers and position sensors including rotary, motorized, hollow shaft, linear and fader types, as well as element segments and custom assemblies. The company's Advanced Thermal Products Operation produces temperature sensing probes and assemblies, PTC and NTC thermistors and resistive temperature detectors (RTD's).

Spectrum Power Management Systems produces AC and DC power distribution and remote management systems. Power solutions include off-the-shelf products as well as customized products or systems designed to suit specific user requirements.

For further product information contact:

Ken Mueller

Antenna Applications Manager

Spectrum Advanced Specialty Products

Santa Barbara, CA 93120

(P) 805-448-2685

(C) 805-455-3081

www.SpecEMC.com

More from Software