Dual Axis Inclinometer Sensor detects angular tilt.
Press Release Summary: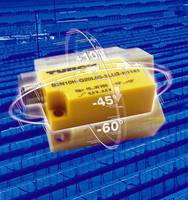 Featuring compact rectangular housings that can be mounted at ±10, ±45, ±60, and ±85° angles, Dual Axis MEMS Inclinometer Sensor measures angular tilt in reference to gravity. It incorporates micro-electro-mechanical capacitive element, and IP67 rated unit provides 2 analog outputs of 0.1-4.9 Vdc or 2 current outputs of 4-20 mA, and operates in -30 to 70°C temperatures.
---
Original Press Release:

Dual Axis MEMS Inclinometer Sensor for Detecting Angular Tilt



Minneapolis, Minn. - November 4, 2008 - TURCK introduces a new dual axis inclinometer sensor for angular tilt detection. These sensors feature compact rectangular housings and may be mounted at ±10, ±45, ±60 and ±85 degree angles. Inclinometer sensors may be used in a wide variety of industries to solve unique feedback requirements where the customer needs to level platforms, control tilt angle or control a dancer.

The new TURCK inclinometer measures angular tilt in reference to gravity. At the heart of the TURCK inclinometer is a MEMS (micro-electro-mechanical system) device, which incorporates a micro-electro-mechanical capacitive element into the sensor that utilizes two parallel plate electrodes, one stationary and one attached to a spring-mass system. Movement causes acceleration that produces deflection in the non-stationary electrode. This results in a measurable change in the capacitance between the two plates that is proportional to the angle of deflection. These signals are conditioned to provide two analog outputs (0.1 to 4.9 VDC) or two current outputs (4 to 20 mA).

The microboard design in the MEMS technology allows for a compact, precise inclinometer in a very robust, industrialized package. The inclinometer is IP 67 rated, with a temperature range of -30 to 70° C that permits its use in many applications, including:

Machine engineering: levers, pedals, flaps, mixing machines, hydraulic jacks
Commercial machines: diggers, cranes, rotary tables, bulldozers, road construction machinery
Vertical and horizontal drills used in tunnel and road construction and immersion equipment
Offshore plants: platforms, cranes
Furniture: hospital beds, dental chairs, fitness machines, wheelchairs
Conveyors

TURCK is an industry leader providing superior quality sensing, connectivity and network products to help manufacturers improve their automated processes.

For other TURCK product or technical information, contact: 1-800-544-7769, www.turck.us, turckusa@turck.com

Related