Dual Analog Switch suits high-frequency applications.
Press Release Summary: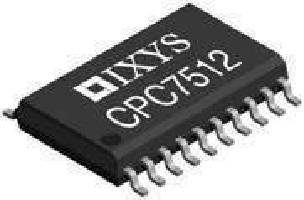 Housed in 20-pin SOIC package, Model CPC7512 provides switching functionality of 2 normally open 1-Form-A solid state relays. Both switches incorporate T-switch compensation technique to provide 60 dB of off-isolation at 1 MHz by minimizing open-state capacitive coupling. Designed to provide single-ended or differential access to high-voltage networks, monolithic IC switches signal up to ±320 V with 5 V supply. Integrated thermal shutdown feature provides protection.
---
Original Press Release:

IXYS Introduces a High-Voltage, High-Frequency Dual Analog Switch for Industrial Applications



The CPC7512 switches signals up to +/- 320V with only a 5V supply



Beverly, Massachusetts, USA — IXYS Integrated Circuits Division (ICD), Inc., an IXYS Company, (NASDAQ: IXYS), announced the introduction of the CPC7512, a dual shunt-Isolated 1-form-A high-voltage, high-frequency analog switch that builds upon IXYS Integrated Circuits Division's design and fabrication expertise for industrial applications. This monolithic solid state device provides the switching functionality of two normally open (1-FormA) solid state relays (SSRs) for high-frequency applications in a small economical package.



Both switches incorporate a T-switch compensation technique to provide 60dB of off-isolation at 1MHz by minimizing open-state capacitive coupling.



Designed to provide flexible single-ended or differential access to high voltage networks, the CPC7512 is configured as two independent switches with optimized state control. The selfbiasing switches do not require external high-voltage supplies for proper operation. A single 5V power supply provides sufficient biasing for enabling high voltage, bidirectional switching.



An integrated thermal shutdown feature provides not only enhanced protection for devices connected to high voltage networks up to +/-320V, but also an external signal to indicate the device is in thermal shutdown.



Applications for this highly reliable device include multiplexed ultrasonic transducer switching, battery monitoring and charging, automatic test equipment (ATE) , instrumentation, industrial controls and monitoring. The versatile device may also be configured as a dual SPDT 1-FormC Switch by utilizing the shunt switch for driving two independent loads.



The CPC7512 is offered a 20-Pin SOIC package.



Price and Availability

The CPC7512 Dual 1-Form-A High Voltage, High Frequency Isolated Analog Switch is available in production quantities. OEM pricing is $1.92 in quantities of 25KU.



About IXYS ICD and IXYS Corporation

IXYS Integrated Circuits Division, (ICD), a leader in the design and manufacture of solid state relays and high voltage integrated circuits, is a wholly owned subsidiary of IXYS Corporation. IXYS Corporation develops and markets primarily high performance power semiconductor devices that are used in controlling and converting electrical power efficiently in power systems for the telecommunication and internet infrastructure, motor drives, medical systems and transportation. IXYS also serves its markets with a combination of digital and analog integrated circuits, power systems, and RF GaAs and GaN based products. Additional information about IXYS Integrated Circuits Division, Zilog and IXYS may be found at www.ixysic.com,  www.zilog.com  and www.ixys.com.

More from Packaging Products & Equipment