Dual Action Gripper facilitates O-ring assembly.
Press Release Summary: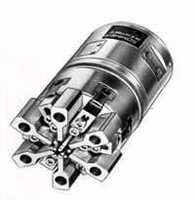 Providing up to 1,450 N force, 6-finger GS Series picks up O-rings, expands them to slip over shaft, then ejects them into groove machined into shaft. Operating from 58-145 psi air pressure, 2 pistons that are pneumatically driven independently of each other actuate gripper motions. Standard pin sizes handle O-rings ranging from 4-60 mm diameter. Optional sensing can be accomplished with 2 proximity switches, which attach to sides of gripper.
---
Original Press Release:

Dual-Action 6-Finger Gripper Streamlines O-Ring Assembly



New Hyde Park, New York - A new six-finger O-ring assembly gripper from Techno-Sommer Automatic features a clever unique design. This compact unit picks up the O-rings, automatically expands them to slip over a shaft, then eject them into the groove machined into the shaft. Two pistons, pneumatically driven independently of each other, actuate the gripper motions. Operating air pressure for the assembly is 58 to 145 psi.

With the gripper positioned so that its six spring-loaded pickup pins fit inside a relaxed O-ring, pressure is applied to the first piston. This piston's stroke presses the pins outward to stretch the O-ring and hold it in a hexagonal shape. This stroke can be adjusted precisely using an external scale ring to make the hexagon's size large enough to slide over the shaft where the O-ring will be installed. With the O-ring expanded, the gripper moves to position the ring around the shaft. When located properly, compressed air is supplied to the second piston, driving the gripper's ejector jaws forward to push the O-ring gently off the pickup pins and into its groove. When air pressure exhausts, pre-tensioned springs retract both pistons, and the reset gripper is ready to begin the next cycle.

The pickup pins and ejector jaws can be machined to suit specific applications: the L-shaped pins also can be rotated 180o to deal with smaller O-rings. Standard pin sizes handle O-rings in a diameter range from 4 through 60 mm. Optional sensing is accomplished with two proximity switches which attach to the sides of the gripper. Pins located under the jaws actuate these sensors. The units six finger design ensures that the O-ring is stretched to a minimum during the installation procedure. A free .DXF CAD file drawing of this gripper is available for downloading at: www.techno-sommer.com.


O-Ring Grippers

Part #   Stroke Grip   Force Add to   Quote CAD 

GS65     6x6mm     300N       2D 3D 

GS1015    10x10mm    1450N       2D 3D


- 2 stage actuation
- One jaw set expands the o-ring, then the other jaw set pushes o-ring onto part

Techno-Sommer Automatic stocks over 1000 automation components including the largest selection of grippers available in North America. Other Sommer Automatic pneumatic components include: tool changers, swivel units, linear actuators, rotary actuators, vacuum cup devices, and lubrication products. These products are being introduced on a special free trial basis. For more information call 1-800-819-3366 or e-mail us your questions at grippersupport@techno-sommer.com

More from Agricultural & Farming Products