Dual 14-Bit ADCs suit industrial and military applications.
Press Release Summary: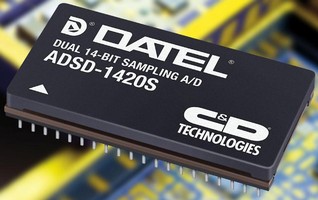 Optimized for low-noise applications, ADSD-1420S and ADSD-1420S-EX are functionally complete, 14-bit resolution, dual sampling ADCs that offer 20 MSPS sampling rate with no missing codes over respective temperature ranges of 0 to +70ºC and -55 to +125ºC. Edge triggered modules have ±2.5 V input range and are suited to time and wideband frequency-domain applications. They offer SNR of 75 dB, plus THD of -80 dB. While requiring ±5 V supply, modules consume 1.6 W typ.
---
Original Press Release:

Dual 14-Bit A/D Converters Provide 20MSPS Performance for Commercial, Industrial, and Military Applications



· 75dB Signal-to-noise ratio
· Functionally complete design
· Optimised for low-noise applications
· No missing codes over full temperature range

February 22nd, 2007, Mansfield, MA - C&D Technologies has added the ADSD-1420S and ADSD-1420S-EX to its range of dual sampling A/D converters. The functionally complete 14-Bit resolution modules provide a 20 mega samples per second (MSPS) sampling rate with no missing codes over their full temperature range.

The ADSD-1420S is designed for commercial applications and has an operating temperature range of 0ºC to +70ºC. The ADSD-1420EX has an operating temperature range of -55ºC to +125ºC, suitable for more demanding industrial or military applications.

The new edge triggered modules have a ±2.5V input range and are suited to both time and wideband frequency-domain applications. They offer signal-to-noise ratio performance of 75dB, plus total harmonic distortion of -80dB making them ideal for designs with low-noise requirements. Typical applications include high-speed data acquisition systems, medical instruments, radar I/Q, DSP, and automatic test equipment (ATE) for military, industrial or commercial applications.

Housed in an industry standard 40-pin, triple-wide, SMT DIP, the ADSD-1420S and ADSD-1420S-EX contain: two fast-settling sample/hold amplifiers; two 14-Bit A/D converters; multiplexed output buffers; a precision reference; and all the timing and control logic necessary to operate from either one or two single start convert pulses. The reference can be "daisy-chained" to allow multiple modules to be used together to create larger A/D systems.

The new modules are fully FFT tested, and require only a ±5V supply while consuming just 1.6W typical. The separate digital voltage pin can be set to 5V or 3V to allow compatibility with systems using either logic level.

Unit pricing for the C&D Technologies ADSD-1420S is under $250 in OEM quantities (USA, 100-piece pricing), and delivery is from stock to 14 weeks.

Note: The datasheet for this product can be found by visiting www.cd4power.com

Contact details:
C&D Technologies, Inc
Power Electronics Division
11 Cabot Boulevard
Mansfield, MA 02048-1151, USA
Tel: 1+ 508.339.3000 Fax: 1+ 508.339.6356
Product URL: www.cd4power.com
E-mail: usmedia@cdtechno.com

About C&D Technologies
C&D Technologies, Inc. is a technology company that produces and markets systems for the conversion and storage of electrical power, including telecom/industrial batteries, rectifiers and electronics. Corporate headquarters are in Blue Bell, Pennsylvania, USA and the company is traded on the NYSE under the symbol 'CHP'.

The Power Electronics Division of C&D Technologies, Inc. (www.cd4power.com) is headquartered in Mansfield, Massachusetts. The division designs, manufactures and distributes DC/DC Converters, AC/DC Power Supplies, Magnetics, Data Acquisition devices and Panel Meters, and offers these products in custom, standard and modified-standard variations. These products, which are built to exacting requirements in ISO9000:2000-approved facilities, are typically used worldwide within telecommunications, computing, industrial and other high-tech applications.

More from Sensors, Monitors & Transducers