DSTI Rotary Unions Helping Scientists Look Further into Universe Than Ever Before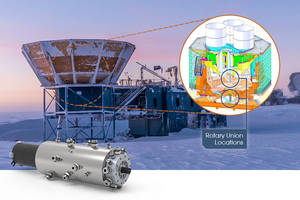 Minneapolis, Minn. - October 11, 2018 - Since 2016, DSTI rotary unions have successfully operated in BICEP3, one of the world's most powerful telescopes located at the southernmost place on Earth.
There, at the Amundsen-Scott South Pole Research Station, scientists from around the world are on a quest to answer some of the biggest and most exciting questions about the nature of the Universe.
What was the Universe like at the beginning of time? What physical processes drove the origin of our Universe, and how can these explain its present-day structure and composition?
To further our understanding of the early Universe, instrument measuring equipment, like BICEP3, are constantly scanning the sky and measuring for the very faint polarization of the Cosmic Microwave Background (CMB). In other words, the radiation of remnant heat from the fireball of the Big Bang in which the Universe was born 13.7 billion years ago. 

Today, a new multi-frequency telescope, BICEP Array, is being assembled at the University of Minnesota. It will feature four, BICEP3-sized receivers and over 30,000 detectors, capable of producing higher resolution maps at greater sensitively levels to help further our knowledge of the Universe. 

With the success of DSTI rotary unions in BICEP3, the University of Minnesota and Harvard University have awarded DSTI to design and manufacture two new rotary union and electrical slip ring assemblies. DSTI's solution will allow pressurized ultra-high purity helium and nitrogen, along with electrical and Ethernet data connections, to transfer between two rotating stages (axes) of the telescope. 

"The lower end of the union remains fixed in place while the upper end rotates along with the stage it is attached to. Using two of these unions will allow each mount to rotate continuously with no wrapping or unwrapping of the cables required," said University of Minnesota Associate Professor Clem Pryke. 

BICEP Array is currently being assembled at the University of Minnesota by faculty, postdoctoral researchers, and graduate students before its journey to the South Pole. To see the progress of the build, visit: biceparray.wordpress.com/blog.
About DSTI
Dynamic Sealing Technologies, Inc. (DSTI) specializes in the design and manufacturing of application-specific fluid solutions worldwide. DSTI's engineered fluid sealing products transfer hydraulic oil, chemicals, water, air, and a variety of other liquids and gases for rotating applications. The company offers custom integrated solutions to meet the unique design, manufacturing, testing, and qualification requirements of each project. DSTI has a full line of in-stock, standard fluid and electrical products including fluid rotary unions and electrical slip rings designed to meet a wide range of industrial applications. www.dsti.com