DSTI Provides Solution For Oil Drill Pipe Lifting Equipment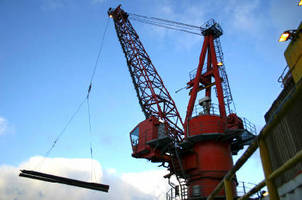 MINNEAPOLIS, Minn. - DSTI's engineers teamed up with one of the largest oilfield services companies to design an "outside the box" lift solution for an automated oil drill pipe handling system.

The lifting system's primary goal is to provide safe, consistent transportation of drill pipes by automating the clamping operations.

Faced with challenge of designing a rotary union capable of bearing a structural load, DSTI proposed a creative solution that integrated the rotary union assembly into the existing load swivel.

The specialized rotary union features 4 separate air lines that can continuously rotate 360 degrees while providing air service to the lifting equipment.

The finalized design was capable of operating in harsh environments and assisted with providing fast, reliable and precise handling of multiple drill pipes.

DSTI provides specialized oil and gas rotary unions for land, offshore and subsea applications with the highest in safety and reliability for any environment.

See full article: www.dsti.com/company/news/articles/index.php?release_link=dsti-provides-solution-for-oil-drill-pipe-lifting-equipment

About DSTI

Dynamic Sealing Technologies, Inc. (DSTI) specializes in the design, manufacture and integration of rotary unions and rotating joints worldwide. DSTI's rotary unions are used to distribute a variety of fluids from a stationary inlet to rotating equipment. The company offers a full line of standard products for a wide variety of applications, as well as complete, specialized rotary union design and manufacturing services.

For more information, please call 763.786.3758 or email info@dsti.com, or visit www.dsti.com.


More from Chemicals & Gases