DSTI Plays Critical Role in Oil Spill Containment Technology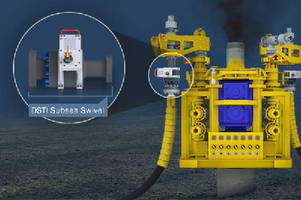 MINNEAPOLIS, Minn. — Dynamic Sealing Technologies, Inc. (DSTI) has secured a multi-year contract with Oil Spill Response Limited (OSRL) to provide equipment and storage for a key part of a containment toolkit used in emergency responses during underwater oil well spills.



The containment toolkit provides operators with the subsea intervention equipment they need to help seal off a leak and minimize damage to the marine environment.



"DSTI is proud of its involvement and contribution to the OSRL containment toolkit; we understand the importance of a defined plan and quick response in the event of an oil spill," says DSTI VP of Business Development John Knoll.



"Our team developed a specialized subsea flow line swivel that reduces risk and improves deployment timing by allowing the flexible containment hoses to swivel freely without resistance. This lowers the amount of stress and loads being applied to the connection equipment as they are moved about and connected during deployment."



Although such incidents are exceptionally rare, in the event of an oil well spill, the toolkit can be rapidly deployed from strategic storage locations worldwide.



"Our latest subsea swivel technology is capable of operating under a broad range of temperatures and depths that can reach 11,500 feet below sea-level, giving our swivel an enormous advantage as locations continue to become increasingly remote and challenging," added Knoll.



DSTI continues to evolve its processes and invest in new technology research and development; standing ready to assist with future efforts to improve the industry's ability to prepare for, and respond to, global subsea well incidents.



About Oil Spill Response Limited --

Oil Spill Response Limited (OSRL) is the largest international industry-funded cooperative which exists to respond to oil spills wherever in the world they may occur, by providing preparedness, response and intervention services. For more information, please visit www.oilspillresponse.com.



About DSTI --

Dynamic Sealing Technologies, Inc. (DSTI) specializes in the design, manufacturing and integration of rotary union products worldwide. DSTI's products are used to distribute a variety of fluids from stationary inlets to rotating equipment. The company offers a full line of standard products for a wide variety of applications, as well as complete, specialized rotary union design and manufacturing services.



For more information, please call 763.786.3758 or email info@dsti.com, or visit www.dsti.com.

More from Fluid & Gas Flow Equipment