DSTI Launches Coiled Tubing Fluid Swivels at SPE ICoTA Conference 2013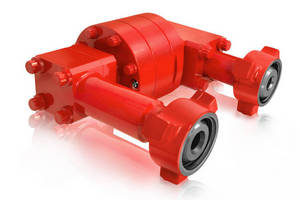 MINNEAPOLIS, Minn. – DSTI will be displaying at the SPE / ICoTA Coiled Tubing & Well Intervention Conference in Houston, Texas, March 26-27.



The company's focus at the conference will be on introducing its latest single passage, high pressure frac fluid swivel technology, a critical component of the coiled tubing reel.



DSTI's improved frac swivel is designed to effectively transfer drilling / fracturing fluids down hole during circulation and pumping operations.



"Combining our experience in abrasive media sealing applications and oilfield standards has positioned us to provide an improved design to the industry," said Oil & Gas Segment Manager Jabari Bush.



Meeting the market's demands for high flow volume and high pressure requirements, the swivel was developed to applicable API specifications with improvements focused on bearing, seal technology and serviceability.



"In the past we've focused on providing multi-passage hydraulic unions for service reels to major coiled tubing OEMs," added Bush. "It was time for DSTI to step up as an industry leader and offer a complete fluid swivel package for coiled tubing units."



DSTI welcomes SPE / ICoTA members and attendees to visit booth 215 to learn more about its fluid swivel technology for coiled tubing and well intervention.



SPE / ICoTA Coiled Tubing & Well Intervention Conference --



The Coiled Tubing and Well Intervention Conference is a dynamic event featuring a diverse range of presentations that cover innovative solutions, practices, and performance improvements across all sectors of the coiled tubing and well intervention industry.  The conference covers all well intervention activities including well control, HSE, electric wireline, slickline, coiled-tubing applications,  fracturing and stimulation, intervention solutions, operational efficiency, subsea/offshore interventions, and advances in equipment, tools, and material. For more information, please visit www.spe.org/events/ctwi/2013/



About DSTI



Dynamic Sealing Technologies, Inc. (DSTI) specializes in the design, manufacturing and integration of rotary union products worldwide.  DSTI's products are used to distribute a variety of fluids from stationary inlets to rotating equipment. The company offers a full line of standard products for a wide variety of applications, as well as complete, specialized rotary union design and manufacturing services.



For more information, please call 763.786.3758 or email info@dsti.com, or visit www.dsti.com.



More from Electrical Equipment & Systems