DSTI Installs Electric Vehicle Charging Stations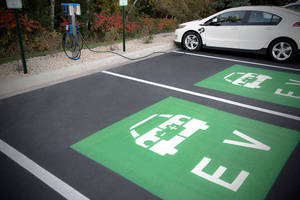 MINNEAPOLIS, Minn. - DSTI has installed two electric vehicle (EV) charging stations for charging plug-in hybrid and all-electric vehicles.

Employees and guests of DSTI will benefit from a sustainable and cost-saving commute option while promoting development in the EV market.

"The installation of these charging stations was an easy decision," DSTI President Jeff Meister said. "With employee demand for EV support, this was another great opportunity to keep our culture committed to environmental sustainability."

The automatic EV charging stations will fully charge two vehicles simultaneously within four hours.

"The new EV charging stations are an exciting and important step in our green initiatives - we want our employees and customers to take pride in being part of a responsible company," said Meister.

Underground infrastructure is already in place for four more EV charging stations, potentially supporting over 50,000 miles a year of commutes with zero-emissions.

About DSTI

Dynamic Sealing Technologies, Inc. (DSTI) specializes in the design, manufacturing and integration of rotary union products worldwide. DSTI's products are used to distribute a variety of fluids from stationary inlets to rotating equipment. The company offers a full line of standard products for a wide variety of applications, as well as complete, specialized rotary union design and manufacturing services.

For more information, please call 763.786.3758 or email info@dsti.com, or visit www.dsti.com.


More from Agricultural & Farming Products