DSTI Furthers Space Innovation with Advanced Radiator Technology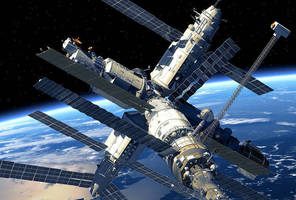 MINNEAPOLIS, Minn. — DSTI is on a path to travel out of this world with its latest fluid and electrical transfer solution designed for use in future spacecraft.



DSTI and the Naval Research Laboratory (NRL) in Washington, D.C. have made large steps in the innovation of spacecraft thermal control system (TCS) technology.



New TCS technology integrating specialized DSTI fluid rotary unions would allow future spacecraft to be outfitted with steerable (rotating) radiators capable of being directed away from the sun's powerful rays, thus reducing the need for large radiators and allowing more on-board "real estate".



Just how effective would steerable radiators be?



Steering radiators away from the sun's heat increases efficiency and allows for substantial reduction of the cooling system size and weight.



Spacecraft in low-earth orbit travel around Earth once every 90 minutes with a day and night occurring during each rotation. Bare metal under direct sunlight can reach temperatures as high as 500 degrees Fahrenheit (260 degrees Celsius).



After extensive dynamic testing and engineering refinements, DSTI's space-ready fluid rotary union design reduces thermal loss from vapor to liquid lines while communicating important data back to the TCS integrating both fluid and electrical transfer technology.



DSTI's fluid rotary union technology for NRL's steerable radiator program is currently undergoing final testing with the goal of qualifying for future use in space. These findings will also be published in the American Institute of Aeronautics and Astronautics (AIAA) Journal to improve awareness of rotary union technology and testing.



About DSTI --

Dynamic Sealing Technologies, Inc. (DSTI) specializes in the design, manufacturing and integration of rotary union products worldwide. DSTI's products are used to distribute a variety of fluids from stationary inlets to rotating equipment. The company offers a full line of standard products for a wide variety of applications, as well as complete, specialized rotary union design and manufacturing services.



For more information, please call 763-786-3758 or email

[email protected]

, or visit www.dsti.com.