DSTI Boosts Offshore Wind Energy for World's Largest Turbines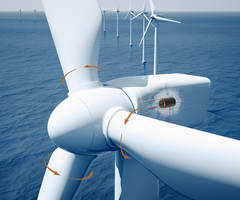 MINNEAPOLIS, Minn. - June 29, 2018 - As demand for cleaner energy rises, wind turbine manufacturers continue to develop groundbreaking solutions to produce power more efficiently and reliably than ever before.

For nearly a decade, DSTI has provided leading wind turbine equipment manufacturers with blade pitch control solutions for safely transmitting electrical signals and hydraulic fluid from a turbine's nacelle to the rotating hub.

As wind speeds change, the hydraulic pitch system monitors and constantly "fine-tunes" the angle of the blades for collecting the highest amount of usable energy. The system also provides overspeed protection, adjusting the turbine's blades to slow down the rotor to prevent the turbine from spinning out of control.

"To keep up with energy demands, offshore wind projects are utilizing larger, higher-capacity wind turbines which are capable of capturing more wind-produced energy at much lower operating costs," says DSTI Vice President of Business Development John Knoll.

DSTI recently partnered with pitch control industry experts and examined both field-proven and innovative technologies to develop the next generation of hydraulic pitch control rotary unions for 6MW-plus wind turbines.

Incorporating a more advanced and robust bearing and sealing system design, DSTI's latest rotary unions aim to provide the reliability and performance required for some of the world's largest turbines.

"The industry has evolved rapidly over recent years, both in technology advancement and competitiveness in the energy market. With our persistent dedication to this segment, DSTI is positioned to support the future growth of global offshore wind power," added Knoll.
View "How Do Rotary Unions Work in Wind Turbines" on YouTube
ABOUT DSTI
Dynamic Sealing Technologies, Inc. (DSTI) specializes in the design and manufacturing of application-specific fluid solutions worldwide. DSTI's engineered fluid sealing products transfer hydraulic oil, chemicals, water, air, and a variety of other liquids and gases for rotating applications. The company offers custom integrated solutions to meet the unique design, manufacturing, testing, and qualification requirements of each project. DSTI has a full line of in-stock, standard fluid and electrical products including fluid rotary unions and electrical slip rings designed to meet a wide range of industrial applications.
Related