DSP Starter Kit contains USB plug-and-play functionality.
Press Release Summary: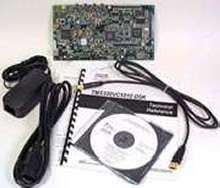 Model TMS320C5510 provides full featured board for DSP development. It enables user to identify areas to be tuned for less power consumption, demonstrate dynamic power management in hardware and software, and manage power consumption efficiently to meet system power budgets early in development cycle.
---
Original Press Release:
New Full Featured DSP Starter Kit Allows Early Fine Tuning of Power-Sensitive Applications

Finish Faster and Get Home In Time for Dinner!

TI's TMS320C5510 DSP Starter Kit (DSK) enables you to optimize system power earlier in the development cycle than ever before. Now you can prolong battery life, create better products faster AND save valuable time so that you can be home in time for dinner.

This low-cost, full featured DSK contains USB plug-and-play functionality and power management tools available today through TI's eStore. It enables you to:

Quickly begin DSP development with an inexpensive, full featured board

Manage power consumption efficiently to meet system power budgets earlier in the development cycle

Identify areas to be tuned for less power consumption

Demonstrate dynamic power management in hardware and software

For more information on the C5510 DSK check out the website for:

2003 C5510 DSK Workshops Check out the workshops link to get the most up-to-date location/date information on this informative, hands-on training

C5510 DSK live webcast (December 11th, 2002) Register to find out more regarding the power analysis capabilities of this tool

TMS320C5510 DSK Product Bulletin - Download this PDF for additional product information

Lori Vidra
TI C5000(tm) DSP Tools Manager


More from Machinery & Machining Tools