DSP Emulator features standard USB 2.0 interface.
Press Release Summary: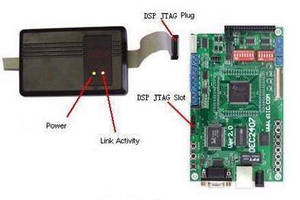 Supporting driver for CCS3.3, Model XDS510 features external, hot pluggable, and bus-powered emulation. It is compatible with USB1.1 host standardized JTAG emulation interface and provides data transfer rate up to 480 MB/s. Emulator supports C and Assembler Realize Flash Program for F28x/F240x/F24x/F20x, as well as RTDX self-regulating DSP voltage of object board. Because unit is plug-and-play, integrated debugger programs can be executed from on or off chip memory without additional delay.
---
Original Press Release:

GAO XDS510 USB 2.0 Enhanced TI DSP Emulator with the Latest Driver for CCS3.3



Toronto, ON -GAO Tek Inc. (http://www.GAOTek.com) recommends one of the new generations of USB emulators---The XDS510, which has been upgraded to support the latest driver for CCS3.3 recently. It boasts many beneficial features such as flexible, external, hot pluggable and bus-powered emulation. These utilities are designed to aid in production and connection to DSP target boards (as illustrated in the picture). Compared with previous version, the advanced emulation controller gives the XDS510-USB much improved download speed.

The XDS510 utilizes a standard JTAG plug acting as a Scan-Based Emulator. Because it is a plug-and-play emulator, integrated debugger programs can be executed from both on or off chip memory without additional delay under any clock speed.

Special features include:

Standard high-speed USB2.0 interface - up to 480MB/s data transfer rate, plug-and-play, compatible with USB1.1 host standardized JTAG emulation interface, to save on computer resources; interface protection design to fully support the hot-plug at JTAG interface for Windows98/NT/2000/XP the latest driver for both CCS3.3 and CCS2.x, supports C and Assembler Realize Flash Program for F28x/F240x/F24x/F20x High emulation speed, supports RTDX self-regulating DSP voltage of the object board preventing system from crash and non-reboot when power to the target board is not able to emulate TI's TMS320C2000/3000/5000/6000, C3X/4X/5X/8X, OMAP1510/1610/1710/2420/310/5910 supports multi-DSP emulation easy to install, runs stable at high speeds, affordably priced

About GAO Tek Inc.

GAO Tek Inc. is a leading provider of test and measurement equipment, embedded development tools, telecommunication testers, electronic measurement instruments, video surveillance, alarm and other electronic products that serve the needs of electronic professionals internationally.

For more information please visit www.GAOTek.com.

GAO Tek Inc. is a member of GAO Group, which also includes

o GAO RFID Inc. - www.GAORFID.com

o GAO Tek Inc. - www.GAOTek.com

o GAO Research Inc. - www.GAOResearch.com

o WowGao Inc. - www.WowGao.com

o GAO RFID Asset Tracking - www.GAORFIDAssetTracking.com

o GAO Embedded - www.GAOEmbedded.com

o GAO Instruments - www.GAOInstruments.com

o GAO Comm - www.GAOComm.com

o GAO Fiber Optics - www.GAOFiberOptics.com

More from Electronic Components & Devices