DSL Splitter offers lightning and power fault protection.
Press Release Summary: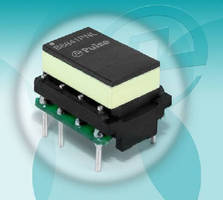 Designed with 6 pins instead of 4 pins, B8841PNL Central Office VDSL2 Splitter Module enables protective device, such as sidactor, to be added on board underneath module and eliminates need for separate protection rack card. Pin location allows fast-acting secondary over-voltage protector to be used to protect filter from surge effects while maintaining VDSL2 performance. Splitter meets requirements for ETSI 600 Ω ADSL to VDSL2 applications and China YD/T 1187-2006 ADSL 600 Ω.
---
Original Press Release:

Pulse Electronics' DSL Splitter Module with Lightning and Power Fault Protection



~ 6-pin module is interchangeable for all global telecom standards ~



San Diego, Calif. - Pulse Electronics Corporation (NYSE: PULS), a leading provider of electronic components, introduces a central office (CO) VDSL2 splitter module with optional lightning and power fault protection. The module is designed with 6 pins, instead of the standard 4 pins. This enables a protective device, such as a sidactor, to be added on the board underneath the module and eliminates the need for a separate protection rack card, freeing up space for an extra multichannel card or to increase airflow for additional cooling. The pin location allows a fast-acting secondary over-voltage protector to be used to protect the filter from surge effects while maintaining good VDSL2 performance. The location may also help to meet ITU and Telcordia coordination requirements with any installed primary protectors, enabling selection of suitable secondary protectors to accommodate different countries and markets.



"Adding surge protection is becoming increasingly necessary as protection standards evolve, and being able to reduce the splitter module size is important as component density increases," explained Ronan Kelly, Pulse Electronics broadband product manager. "Pulse's new CO splitter module offers the customer a product to address these needs."



Pulse Electronics' B8841PNL CO module is part of a family of products that have the same 6 pin footprint, so modules can be interchanged to address a specific target market without changing the rack cabinet connectivity. This pin configuration accommodates all global standards and is well-suited for use in the Americas, Europe, and Asia. It meets requirements for ETSI 600 ohm ADSL to VDSL2 applications and China YD/T 1187-2006 ADSL 600 ohms. The modules are used on a rack card in a DSLAM or within roadside cabinets to combine or split the POTS from DSL data.



The modules are sold in trays. Lead-time is typically 8-10 weeks. The part is production released and available for orders. More information on Pulse's B8841PNL product family can be found on datasheet http://productfinder.pulseeng.com/products/datasheets/B1005.pdf  located on the Pulse website at http://www.pulseelectronics.com/B8841PNL.



About Pulse Electronics:

Pulse Electronics is the electronic components partner that helps customers build the next great product by providing the needed technical solutions. Pulse Electronics has a long operating history of innovation in magnetics, antennas, and connectors, as well as the ability to ramp quickly into high-quality, high-volume production. The Company serves the wireless and wireline communications, power management, military/aerospace and automotive industries. Pulse Electronics is a participating member of the IEEE, SFF, OIF, HDBaseT Alliance, CommNexus, and MoCA. Visit the Pulse Electronics website at www.pulseelectronics.com.



Copyright ©2013 Pulse Electronics Corporation.  All rights reserved.  All brand names and trademarks are properties of their respective holders.



Pulse Electronics 

Ronan Kelly

Product Marketing Manager

Cell: +353 86 0397686

E-mail: rkelly@pulseelectronics.com

More from Packaging Products & Equipment