DSC Instrument is optimized for polymer field.
Press Release Summary: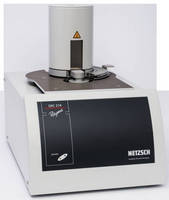 Intended for Differential Scanning Calorimetry (DSC), DSC 214 Polyma features Arena furnace, with heating and cooling rates up to 500 K/min; diffusion-bonded Corona sensor; and Concavus pan. Measuring software minimizes time/effort required to start experiments via wizards, predefined methods, and AutoCalibration, and thermal effects in measuring curve can be determined automatically with one click. Another tool allows unknown polymer identification by comparison to data in expandable library.
---
Original Press Release:

NETZSCH Unveils the New Paradigm in Differential Scanning Calorimetry (DSC)



For the first time, each of the steps involved in running a DSC measurement has been taken into account in developing a comprehensive new solution. From improved sample preparation to advanced pan geometry with special packaging for transport, handling and archiving; from an optimized diffusion-bonded sensor to a low-inertia furnace allowing the fastest heating and cooling available on the market; from AutoCalibration to AutoEvaluation and the unique Identify software – the Polyma DSC is not just a great new instrument. It sets the new paradigm in performance and ease of use.



"When we initiated the project for a new DSC solution, we conferred with many users and listened to their wishes in order to determine several key objectives," said Dr. Thomas Denner, Head of the Analyzing and Testing Business Unit at NETZSCH. "The goal was to achieve the best trade-off between sensitivity and resolution, along with great reproducibility and fast heating and cooling. Also, the system was to operate with highly user-friendly software integrating many unique features. The result is Polyma, an instrument optimized for the polymer field and incorporating innovative ideas for sample preparation and easy-to-use, flexible software."



The core of the DSC 214 Polyma is comprised of the new Arena furnace for extremely fast heating and cooling rates of up to 500 K/min, the new diffusion-bonded Corona sensor and the unique Concavus pan. This trio offers optimum performance with the highest reproducibility.



Measurement preparation has been significantly simplified by means of the new SampleCutter, which is available exclusively from NETZSCH, and the brand-new "3in1 Box" containing 96 pre-sorted and cleaned Concavus pans. The box allows for safe transportation and easy handling while providing a smart archiving system.



Experiments can be started with a minimum of time and effort thanks to the new intuitive SmartMode of the Proteus measuring software. Wizards operating on the basis of experiment categories, methods predefined by type of polymer, and AutoCalibration are just a few of the SmartMode features. The introduction of the AutoEvaluation function has set a new standard in the evaluation of measurement results. For the first time, it is now possible to determine thermal effects in the measuring curve automatically, with just one click. This unique feature allows for the elimination of operator-based variability in test evaluations.



One of the most impressive of the new features is the unique program called Identify. This tool allows for the identification of unknown polymers by comparing them with data stored in a library. NETZSCH provides a small polymer database as a starting point from which users can expand, adding their own specific information over time. Users can also apply Identify to compare the results from quality control checks to standard conditions which they had previously deemed acceptable for their own materials. Hence, Identify allows for quick insight into such issues as the quality of delivered feedstock or the thermal history of molded parts.



Although such library technology had existed in the past for other types of instruments, such as Mass Spectroscopy or FT-IR, it had never been available for DSC until now.



Additional information on the new NETZSCH 360° view and the DSC 214 Polyma can be found at www.netzsch.com/...

More from Software