Drying-Time Recorder has 4 timing cycles from 1-24 hr.
Press Release Summary: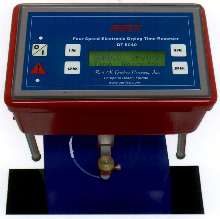 Meeting ASTM D 5895, Gardco Drying Time Recorder measures and records drying times of coatings and adhesives. Stepper motor is mounted on rubber-tipped tripod. Arm and ball assembly has counter-poised vertical stylus, consisting of Teflon® 3/8 in. ball stylus and counter weight to adjust to zero. Shaft arm with Teflon® ball scriber produces 2 in. dia circular path. Drying time is observed and recorded as ball penetrates film and produces circular groove over period of time.
---
Original Press Release:

Gardco Quadracycle Drying Time Recorder



Meets ASTM D 5895

An Instrument which measures and records drying times of all types of coatings, adhesives, etc.

Gives four (4) timing cycles of 1, 6, 12, or 24 hours

The Drying Time recorder consists of a stepper motor mounted on a rubber tipped tripod. The arm and ball assembly has a counter-poised vertical stylus consisting of a Teflon 3/8 in. (10 mm) ball stylus and a counter weight to adjust to zero. The Teflon stylus typically under a 12 g load (weight supplied) is moved in a 360 degree arc at a pre selected fixed speed.

A shaft arm with Teflon® ball scriber produces a 2" diameter circular path. Drying time is observed and recorded as the ball penetrates the film and produces a circular groove over a period of time. After drying is completed a clear plastic time template is placed over the area so that the drying time record can be converted into minutes or hours.

If you would like more information please call: 1-800-762-2478

More from Electrical Equipment & Systems