Drying System inhibits foods from sticking together.
Press Release Summary: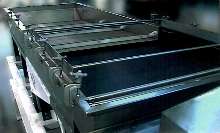 Open access fluid bed drying system offers pre-drying zone that pre-treats sticky, extruded, and expanded products by removing outer layers of moisture that cause particles to stick together. Installed after dewaterer, pre-dryer permits smooth movement from Teflon-coated pre-dryer deck into vibrating fluid bed drying section. Pre-drying prevents blockages and reduces need for maintenance. Unit may be cleaned during processing.
---
Original Press Release:
Innovative Fluid Bed Drying System Features Clever Pre-Drying Zone to Inhibit Sticky Foods from Sticking

Breakthrough Design Is Easy To Clean, Minimizes Downtime, Saves Energy

Washington, NJ: An innovative fluid bed drying system by food processing machinery and drying equipment manufacturer The Witte Company, Washington, New Jersey, features a clever pre-drying zone that pre-treats sesame seeds, spices, sugar, bread crumbs, croutons, flour, cereals, rice, vanilla beans and other sticky, extruded and expanded products with low temperature heating at high velocity. Installed after the dewaterer, the Witte pre-dryer effectively removes the outer layer of moisture that causes the particles to stick together and/or to the drying section, permitting smooth movement from the Teflon-coated pre-dryer deck into the vibrating fluid bed drying section.

By addressing stickiness upstream from the drying section, the Witte pre-dryer minimizes the potential for particles to clump in the drying section, preventing the blockages that increase product waste and demand line stoppage for cleaning while reducing maintenance needs and optimizing the efficiency of the entire process. The open access Witte pre-dryer may be quickly cleaned during processing without shutting down any portion of the line.

The Witte fluid bed drying system featuring the pre-drying zone is in operation for a major sesame producer.

For more information, contact James Schak, the Witte Company, Inc.,- 507 Rt. 31 South, Washington, NJ, 07882; 908-689-6500; Fax 908-537-6806; jschak1@aol.com; www.witte.com
More from Fluid & Gas Flow Equipment