Dry Vapor Steam Cleaner eliminates pests and bacteria.
Press Release Summary: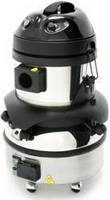 With its anti-microbial features and ability to generate temperatures up to 310°F, KleenJet® Mega 500VP ATIS can eliminate pests and bacteria to sanitizes surfaces in commercial and institutional restaurants as well as cafeterias. High temperatures can be attained within 15 min, and pressure levels are adjustable up to 75 psi. Along with Advanced Thermal Ionic Sanitization™ technology, features include and vacuum technology controlled directly from handle and removable heating elements.
---
Original Press Release:

Daimer Ships Steam Cleaner for Restaurant Pest Control



Daimer Industries, Inc.®, the globally-renowned provider of industrial steam cleaner equipment, such as quality carpet steam cleaner systems and durable vapor steam cleaner machines, has unveiled a machine with anti-microbial features and high temperatures to eliminate pests and bacteria in commercial and institutional restaurants as well as cafeterias. The KleenJet® Mega 500VP ATIS generates temperatures as high as 310°F and adjustable pressure levels up to 75 psi to make the cleaning process efficient and productive. The KleenJet® Mega 500VP ATIS sanitizes surfaces and saves restaurant owners from pest-related fines.



"Pests release bacteria and pose a big threat to the health of people, aside from making the customers visiting a restaurant feel disgusted. A restaurant's reputation can go down the drain, if a pest is sighted by any customer," says Matthew Baratta, Daimer Industries, Inc.® spokesperson. "Daimer® is excited to launch the KleenJet® Mega 500VP ATIS steam cleaner machine with outstandingly high temperatures and Advanced Thermal Ionic Sanitization™ (ATIS®) technology for complete sanitization. The machine's high temperatures kill pests and prevent the spread of harmful diseases, and the ATIS® technology is proven to prevent the growth of different bacteria."



Surprisingly, during the past fiscal year the total number of restaurants in NYC forced to shut down totaled 1,504. All these restaurants failed an inspection for cockroaches and rodents. Nearly 18,384 fines were issued by health inspectors due to mice spotting, representing a 35% increase from 2010. The total number of violations found by the Department of Environmental Protection in 2010 fiscal year, 2010 and 2009 were 67, 85, and 43, respectively.



Pests cannot survive the high temperatures offered by the KleenJet® Mega 500VP ATIS vapor steam cleaner machine from Daimer®. The efficient portable steam cleaner can reach high temperatures within 15 minutes, and is ideal for disinfecting and sanitizing virtually all surfaces within restaurant kitchens and even restrooms. The sophisticated steam cleaner ejects dry vapor steam containing only 5% water content, so surfaces do not get soaked with water after cleaning.



Daimer® offers patented, removable heating elements with all its KleenJet® commercial steam cleaner equipment. The technology ends the need to replace the entire boiler, in rare cases when a replacement is required, as the heating elements are not welded onto the boiler. A complete boiler replacement can cost nearly $800 from other brands, thus, the company's cost-effective grout steam cleaner saves tremendous costs for operators.



The KleenJet® Mega 500VP ATIS is one of Daimer®'s commercial steam cleaner equipment models that comes standard with the company's sophisticated vacuum technology, which is easily controlled right from the handle itself. The user can enable or disable extraction with the flip of a switch. The company is one of the few in the industry that offers steam vac cleaning systems to allow for simultaneous steaming and extraction or alternating steaming and vacuuming, whichever the operator prefers. Low-grade floor cleaning machines and other technologies from other brands are just steam machines requiring simple towels to clean and wipe, a much less productive approach than using a steam vacuum cleaner.



Accessories included with the high-performance floor steam cleaner are large triangular and rectangular brushes with towel clips, 10' detachable steam/vac hose, plush microfiber towels, 10' foot detachable steam hose with heavy-duty connections, and many more. All the above mentioned features and technologies make the 500VP the best steam cleaner in the industry.



For Additional Information:

To learn more about the KleenJet® Mega 500VP ATIS steam cleaner, visit the company's website or call Matthew Baratta directly at (888) 507-2220. The equipment is also exported to most countries globally.



About Daimer Industries, Inc.®:

Daimer Industries, Inc.® is the world's leading supplier of highly advanced steam cleaner systems, pressure washing equipment, hard floor cleaning systems, and other machines, with total models exceeding 700.

More from Waste Management & Waste Handling Equipment