Dry-Type Condenser Bushings target power transformers.
Press Release Summary: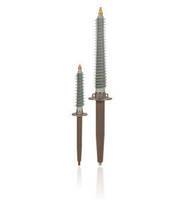 Available in voltage classes ranging from 25–138 kV, O Plus Dry™ Bushings incorporate resin impregnated synthetic condenser body and high temperature vulcanized silicon weather shed. Design eliminates potential leaks of oil-filled bushings and porcelain shards from fragile porcelain insulators. Use of HTV weather sheds also minimizes need for cleaning in highly contaminated environments and decreases susceptibility to harmful acts.
---
Original Press Release:

ABB Launches New Line of Condenser Bushings for Use in Power Transformers



Dallas, Texas, – The new O Plus Dry™ bushing product family provides multiple benefits compared to existing bushing designs.



ABB, the leading power and automation technology group, has introduced a new line of condenser bushings for use in power transformers in the IEEE market.



Manufactured in ABB's Alamo, Tennessee facility, the O Plus Dry™ bushing is a dry-type bushing, incorporating a resin impregnated synthetic (RIS) condenser body and high temperature vulcanized (HTV) silicon weather shed.  RIS technology represents the latest evolution in condenser bushing design and can best be described as a refinement of resin impregnated paper (RIP) construction, which ABB has manufactured for over a decade.



Dry-type bushings, whether RIS or RIP, offer several advantages over more traditional condenser bushings, which are typically constructed using oil impregnated paper in the condenser body and porcelain insulators.



"Potential oil leaks from transformer bushings are eliminated with the O Plus Dry bushings because there is no oil to leak," said Jon Brasher, sales and marketing manager for ABB Transformer Components. "This not only reduces the potential for unplanned service outages, but also represents a more environmentally friendly solution, when compared with oil-filled bushings."



The use of HTV weather sheds offers additional advantages, such as reducing the need for cleaning in highly contaminated environments and decreased susceptibility to harmful acts. "The porcelain insulators in traditional bushings have a great deal of pressure exerted on it, so it tends to fragment intensely when it fails and we have witnessed many cases where the porcelain fragments intensely when it fails," said Brasher.  "In many cases, the shrapnel will destroy neighboring bushings, causing a fire and ultimately catastrophic transformer failure."



ABB is the market leader in AC power bushings. The O Plus Dry condenser bushing family is available in voltage classes ranging from 25 to 138 kV and can be ordered now.

ABB will be displaying the O Plus Dry bushings at the 2016 IEEE PES T&D Expo at the ABB booth (#5216).



ABB (www.abb.com) is a leading global technology company in power and automation that enables utility, industry, and transport and infrastructure customers to improve their performance while lowering environmental impact. The ABB Group of companies operates in roughly 100 countries and employs about 135,000 people.



For more information please contact:

Bill Rose

ABB Inc.

Media Relations Manager

Power Grids Division

North America

901 Main Campus Drive

Raleigh, North Carolina, 27606 USA

Phone: 1 919 807 5743

Mobile: 1 919 244 4879

email: bill.rose@us.abb.com

Twitter: @BillRose_ABB











More from Machinery & Machining Tools