Dry Screw Vacuum Pumps handle large gas volumes.
Press Release Summary: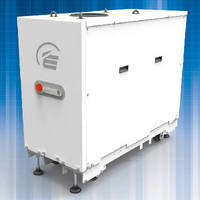 With ultimate vacuum typically down to 3.8 x 10
-4
Torr without purge, Models GXS450 and GXS750 deliver peak pumping speeds up to 435 cfm. When combined with booster pump, units offer speeds up to 1,978 cfm. Pump mechanism can be cleaned using high flow purge and solvent flush accessory, which removes need to partially strip pump. Fitted with controller as standard, pumps are suited for steel degassing and metallurgy processes, glass coating, solar coating, and LED manufacture.
---
Original Press Release:

Edwards Launches Two High Performing GXS Vacuum Pumps for Industrial Applications



NIAGARA, N.Y., U.S. - Edwards, a leading global manufacturer of vacuum and abatement equipment and services, has extended its range of GXS dry pumps to meet the demands of high volume industrial OEMs and end users. The new GXS450 and GXS750 pumps and combinations feature innovative screw technology and a high efficiency drive to deliver high vacuum performance. This enables users to optimize their processes and achieve a low cost of ownership and a reduced footprint.

The new GXS pumps have high peak pumping speeds of up to 436 cfm, and when combined with a booster pump can offer even higher speeds of up to 1978cfm, while achieving ultimate vacuum typically down to 3.8x10-4 Torr without purge. These high performing pumps are ideal for many applications which require rapid pumping of large gas volumes, such as steel degassing and metallurgy processes, glass coating, solar coating, LED manufacture and load-lock applications for vacuum chamber evacuation, but can also maintain a low process pressure for extended periods.

The pumps are an extension of the existing GXS range, which is proven to offer reliable operation in harsh applications, and the new variants feature all the same benefits as the smaller versions. Its advanced temperature control, low maintenance and long service intervals of up to five years, make the GXS the most robust and economical vacuum pump for industrial applications.

The GXS has a long pump service life and is virtually maintenance free, even in harsh applications. The pump mechanism can be cleaned easily using the high flow purge and solvent flush accessory, which removes the need to partially strip the pump. This also decreases costly downtime associated with using alternative products that require manual cleaning.

The pump design incorporates a number of innovative features which contribute to its smooth quiet running, excellent vacuum performance and low running cost. The shafts on the GXS are supported at both ends for increased rigidity, resulting in improved dust handling, reduced vibration and noise levels below 70 dB(A).

The GXS pump enables users to minimize their environmental impact as it has reduced gas and power consumption. The motor is matched to the inverter to give up to 15 per cent efficiency improvement compared to current designs, which further reduces the cost of ownership. All pumps are fitted with a controller as standard, providing users with reduced installation cost and enhanced control features including stand-by for reduced utility consumption, pressure control and start-up and shutdown routines. GXS pumps may be linked to customers' dedicated process controllers for full system integration.

"We are delighted to introduce the new larger versions to our range of GXS dry pumps," says Owain Charles, Edwards product manager - GV dry pumps. "At Edwards we have extensive experience of designing pumps for harsh process vacuum applications and now customers requiring higher pumping capacity can realize the full benefits of our intelligent screw technology."

There are now 10 variants in the range to suit all applications. The efficient GXS450 and GXS750 are available as stand-alone pumps or as booster combinations GXS450/2600, GXS450/4200, GXS750/2600 or GXS750/4200. The smaller versions include the GXS160 and GXS250 or GXS160/1750 and GXS250/2600.

For more information visit www.edwardsvacuum.com/gxs

About Edwards

Edwards is a leading global technology and environmental business supplying integrated solutions for the manufacture of semiconductors, flat panel displays, LED's and solar cells as well as vacuum technology for industrial, scientific, process and R&D applications.

The company employs approximately 3,000 people worldwide in the design, manufacture and support of high technology vacuum and exhaust management equipment.

Edwards invented the concept of the low-maintenance, cost-effective, commercial oil-free 'dry' vacuum pump, while its abatement systems prevent the emission of harmful greenhouse gases making the Edwards' overall carbon footprint negative*

For more information, please visit www.edwardsvacuum.com.

*Greenhouse Gas Protocol -Scope 3 Indirect Emissions