Dry Screw Vacuum Pumps are virtually maintenance-free.
Press Release Summary: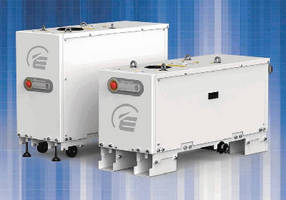 Providing vacuum down to 1 x 10
-3
mbar, GXS Series features service life up to 5 years, even in harsh applications. Pump mechanism can be cleaned using high flow purge and solvent flush accessory, eliminating need to partially strip pump. Shafts are supported at both ends, resulting in optimized dust handling, minimized vibration, and noise levels below 64 dB(A). Applications include lamination, coating, metallurgy, pharmaceutical and food process freeze drying, and packaging.
---
Original Press Release:

New GXS Dry Screw Vacuum Pumps Enable Industrial Process Optimization with Low Cost of Ownership



TEWKSBURY, MA., U.S. - Edwards, a leading global supplier of vacuum and abatement equipment and services, has launched a new range of dry pumps which delivers high vacuum performance and enables full process integration. The compact GXS pump features unique screw technology and enables users to optimize their processes resulting in a low cost of ownership and a reduced footprint.

The GXS is robust and reliable. It has a long pump service life of up to five years and is virtually maintenance free, even in harsh applications. The pump mechanism can be cleaned easily using the high flow purge and solvent flush accessory, which removes the need to partially strip the pump. This also decreases costly downtime associated with using alternative products that require manual cleaning.

The pump provides faster pump down compared to competitive products and gives ultimate vacuum down to 1x10-3 mbar (7.5x10-4 Torr). This results in optimum performance in a variety of applications from light duty through to load-lock and harsh process.

The pump design incorporates a number of innovative features which contribute to its smooth quiet running, excellent vacuum performance and low running cost. The shafts on the GXS are supported at both ends for increased rigidity, resulting in improved dust handling, reduced vibration and noise levels below 64 dB(A).

The GXS pump enables users to minimize their environmental impact as it has reduced gas and power consumption. The motor is matched to the inverter to give up to 15 per cent efficiency improvement compared to current designs, which further reduces the cost of ownership. All pumps are fitted with a controller as standard, providing users with reduced installation cost and enhanced control features including stand-by for reduced utility consumption, pressure control and start-up and shutdown routines. GXS pumps may be linked to customers dedicated process controllers for full system integration.

"At Edwards we have extensive experience of designing pumps for harsh process vacuum applications requiring dust and process contaminants handling," says Nick Giles, Edwards product marketing manger - Industrial Vacuum. "We have successfully developed a new range of dry pumps, covering a wide range of applications, offering high reliability and enabling customers to optimize their processes with reduced cost of ownership. The efficient GXS pumps are available in four variants, stand-alone GXS160 and GXS250 or as booster combinations GXS160/1750 and GXS250/2600."

The pump and booster combinations can be configured for optimum performance in a wide variety of applications including crystal pulling, lamination, coating, metallurgy, pharmaceutical and food process freeze drying, packaging, plasma sterilization, vacuum chamber evacuation and high purity gas cylinder filling.

For more information, please visit http://www.edwardsvacuum.com/gxs

About Edwards

Edwards is a leading global supplier of integrated solutions for the manufacture of semiconductors, flat panel displays, LEDs and solar cells and a leader in vacuum technology for industrial, scientific, process and R&D applications. The company employs approximately 3,000 people worldwide in the design, manufacture and support of high technology vacuum and exhaust management equipment. Edwards invented the concept of the low-maintenance, cost-effective, commercial oil-free 'dry' vacuum pump and offers a wide range of other pumping technologies, and related products, supported by an international sales and service organization.