Dry Pump delivers low particulate generation.
Press Release Summary: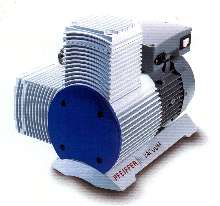 XtraDry positive displacement dry pump features piston style design, which does not expose bearings to high vacuum conditions. It provides hydrocarbon-free vacuum and does not generate particulates that can contaminate vacuum processes. Pumping speed is independent of gas species with 2-stage version providing pumping speed of 9 m³/h and base pressure of 0.05 mbar. Single-stage model has pumping speed of 16 m³/hr and base pressure of 3 mbar.
---
Original Press Release:

Pfeiffer Vacuum Launches XtraDry -- A Low Cost Dry Pump that Delivers High Reliability and Low Particulate Generation with Low Maintenance


Nashua, New Hampshire-Pfeiffer Vacuum, one of the worlds leading producers of vacuum products and services, has announced the introduction of XtraDry, a new positive displacement dry pump technology. XtraDry features a simple piston style design which does not expose the bearings to high vacuum conditions for a long, service life. XtraDry provides a hydroc arbon-free vacuum and does not generate particulates that can contaminate vacuum processes. The pumps operating characteristics make it well suited for use in analytical instruments including mass spectrometers, leak detectors and electron microscopes; industrial, semiconductor and medical equipment, as well as a backing pump for turbo pumps in high vacuum systems.

XtraDry has been designed for exceptional performance, long service life, ease of maintenance and low cost. It features a flexible and simple, low vibration design that permits multiple pump configurations while having few moving parts. Pumping speed is independent of gas species with a two-stage version providing a pumping speed of 9 m³/h and a base pressure of 0.05 mbar. A single-stage model has a pumping speed of 16 m³/hr and a base pressure of 3 mbar. Simple maintenance and replacement of wear parts such as seals and bearings require no special tools or training. XtraDry has a quiet, single-phase motor for ease of use, and an integrated gas-ballast valve for improved vapor capability.

XtraDry is expected to replace dry diaphragm pumps in applications where pumping speed and reliability are an issue. The XtraDry pump is also being evaluated for semiconductor applications that experience particulate contamination generated by scroll pumps. In addition, it has show promise as a replacement for rotary vane pumps where there are concerns about oil back-streaming.

Pfeiffer Vacuum, Inc., develops, produces and markets key components for vacuum technology used in semiconductor fabrication, optical and thin film deposition, such as flat panel displays and TV monitors, analytical instrumentation, high energy physics, and research and development. Pfeiffer Vacuum offers an extensive range of vacuum pumps, vacuum gauges, leak
detectors, mass spectrometers, and accessories such as valves, fittings and flanges. The company is ISO certified.

Pfeiffer Vacuum North American operations offer marketing, sales, field services, repair, customer training, and applications and support. Sales and support functions are headquartered in Nashua, New Hampshire with offices throughout the U.S. and a major customer support center in Milpitas, California, in the heart of the semiconductor industry.

For further information, contact Phil Tremblay, at Pfeiffer Vacuum, Inc., 24 Trafalgar Square, Nashua, NH 03063-1988. Phone 607-578-6500. Fax 603-578-6550. Web site: http ://pfeiffer-vacuum.com; E-Mail: ptremblay@pfeiffer-vacuum.com

More from Optics & Photonics