Dry Ice Blast Cleaning System is safe and non-abrasive.
Press Release Summary: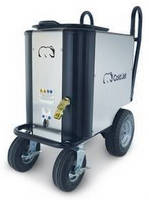 Offering blast pressure from 20-250 psi, Aero 40 HP uses high-density dry ice made from reclaimed CO2 as cleaning medium to provide non-abrasive, non-conductive, chemical- and water-free process that will not damage surfaces or equipment. Design optimizes pellet integrity, cleaning aggression, and blast stream reliability, while SureFlow system prevents clogging and pellet sublimation to ensure uninterrupted cleaning performance.
---
Original Press Release:

Cold Jet Expands Aero Series of Dry Ice Blast Cleaning Systems



New Aero 40 HP provides compact, high pressure cleaning solution

CINCINNATI - Cold Jet, LLC, the world leader in environmentally responsible dry ice blast cleaning and production technology, today introduced the new Aero 40 HP, a compact, high pressure dry ice blast cleaning system. The Aero systems provide advanced economical dry ice blast cleaning in an environmentally friendly format for a variety of industries. The new model, like all in the Aero Line, guarantees the best pellet integrity, maximum cleaning aggression and the most reliable blast stream on the market. In addition, the Aero 40 HP uses Cold Jet's SureFlow system to prevent clogging and pellet sublimation, ensuring uninterrupted cleaning performance.

"Our Aero Series feature the best dry ice blast cleaning technology on the market, and our latest unit improves upon one of our most popular systems by delivering high pressure cleaning capabilities when a more aggressive clean is required," said Gene Cooke, CEO of Cold Jet, LLC. "Leveraging our customers' feedback and more than two decades of technology innovation and experience, we are able to continue to meet the needs of businesses across multiple industries. The Aero 40 HP delivers superior performance in a compact design that will allow companies to clean faster, smarter and safer."

Cold Jet systems use high-density dry ice made from reclaimed carbon dioxide as the cleaning medium, and therefore provide a non-abrasive, non-conductive, chemical-free, water-free process that won't damage surfaces or equipment. The dry ice media, blasted using pressurized air at user-controlled speeds, sublimates upon impact with the surface being cleaned, lifting away dirt and contaminants without leaving behind any secondary waste. With its compact size and blast pressure range of 20 to 250 PSI, the Aero 40 HP can be used for a variety of cleaning applications.

The Aero Series is designed with patented technology that is only found on Cold Jet systems. These features enable users to maximize their cleaning performance by eliminating clogging, maintaining pellet integrity throughout the entire process, and achieving a fast, uniform clean.

Cold Jet's Aero 40 HP includes the following benefits:

Cold Jet SureFlow System, which consists of an isolated, insulated hopper, radial feeder, advanced agitation technology, aerodynamic fittings and burst-proof blast hose;

Large selection of patented AeroTech nozzles that help maximize performance;

Ergonomic applicators that reduce user fatigue;

Proprietary coupling system for quickly and easily connecting and disconnecting nozzles ;

Aerodynamically tuned hoses, which eliminate constriction and deliver more cleaning power; and

Welded steel frame and rugged tires to ensure mobility and durability.

For more information about products manufactured by Cold Jet, call 1-800-337-9423 or visit www.coldjet.com.

About Cold Jet
Since 1986, Cold Jet has developed innovative, environmentally responsible cleaning solutions that help companies reduce maintenance costs, enhance product quality, prolong equipment life, and improve productivity and worker safety. Cold Jet's extensive line of dry ice blasting systems are used around the world in a variety of industries, making productive use of reclaimed carbon dioxide while eliminating the need for chemicals and water in the cleaning process. In addition to its dry ice-based cleaning systems, the company's dry ice production equipment is used by every major gas company worldwide to produce the highest density dry ice available. Cold Jet is a private company with global headquarters in Loveland, Ohio and international operations in Europe, Asia, Middle East, Canada and Mexico. For more information, visit www.coldjet.com or call 1-800-337-9423.

More from Electrical Equipment & Systems