Dry Film Dielectric Photoresist is intended for 3D TSVs.
Press Release Summary: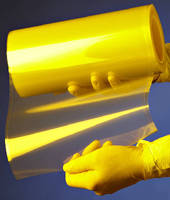 SINR series siloxane-based negative photoresist film, available in 12-100 micron thicknesses, will flow into vias to produce void-free dielectric fill and planarized surface. Suited for 3D Through-Silicon Vias (TSVs) and 2D wafer bonding applications, vacuum laminated dry films exhibit minimal residual stress with 90 MPa modulus that produces rubbery consistency and minimizes wafer bow. Dielectric constant is as low as 2.6, and built-in adhesion promoters ensure optimal bonding.
---
Original Press Release:

For Semiconductor Wafer Bonding and Through-Silicon Via Applications, Shin-Etsu MicroSi Introduces New Dry Film Dielectric Photoresist



Vacuum laminated dry films for 3D TSVs flow into vias for void free, planarized coverage.

Phoenix, AZ, July 28, 2009

Shin-Etsu MicroSi has introduced an extension of their photosensitive dry film dielectric technology for 3D Through-Silicon Vias and two-dimensional wafer bonding applications. This SINR (http://microsi.com/photolithography/data_sheets/Presentation%20for%20Website%20Nov%2008.pdf) negative photoresist film, introduced last year, is available now in thicknesses from 12 to 100 microns. Other non-3D applications for the photoresist include stress buffer and RDL dielectrics for wafer-level packaging.

These films feature:


Low residual stress featuring an ultra low modulus, which produces a "rubbery" consistency to the film and results in minimal wafer bow, particularly important with 300mm wafers that are hard to process if the wafers are not flat.


Low temperature cure: many device types, for example, can fail if processed above 200° C.


Good adhesion: Shin-Etsu proprietary adhesion promoters are built in to ensure good bonding.


Low dielectric constant for superior electrical performance.

Shin-Etsu Chemical developed the siloxane-based SINR series photoresist from their long tradition of working with silicone materials. ShinEtsu has tailored the materials to specific, custom applications.

Through-Silicon Vias (TSV)
For TSV applications, these films can be applied with a roll laminator or by vacuum lamination, which is preferred for TSV because the combination of temperature, pressure and vacuum allows the material to flow into the vias, producing a void-free dielectric fill and a planarized surface. CMOS image sensors are the first process that now uses this TSV technology. TSVs can typically feature vias that are 50 to 100 microns across.

CMOS Image Sensors:
Shin-Etsu MicroSi SINR works well for bonding applications including:

Wafer-to-wafer

Chip-to-wafer

Wafer-to-glass, as in CMOS image sensors

The SINR 3170 series and SINR 3570 series are now in production and available for sampling and evaluation by contacting Shin-Etsu MicroSi.

About Shin-Etsu
Shin-Etsu Chemical Co., Ltd., the Tokyo-based chemical company, is the world's largest supplier of semiconductor materials, semiconductor silicon, PVC resin, synthetic quartz glass and methylcellulose and is a major producer of materials including silicones and rare earth magnets. Shin-Etsu Chemical's stock (TSE: 4063) is listed on three markets: The Tokyo, Osaka and Nagoya Exchanges in Japan. www.shinetsu.co.jp

Shin-Etsu MicroSi Inc. is a wholly owned subsidiary of Shin-Etsu Chemical Co., Ltd. With its headquarters in Phoenix, Arizona, Shin-Etsu MicroSi provides high performance products and materials, specifically designed to address today's photolithography, packaging and flexible printed circuit requirements. www.microsi.com (http://www.microsi.com)


Related