Drum Vacuum can vacuum 5 gal of liquid in less than 10 sec.
Press Release Summary: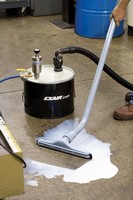 Utilizing SS 2-way pump that is suited for use with most non-flammable liquids, Mini Reversible Drum Vac System can vacuum coolant, hydraulic oils, spills, sludge, tramp oil, and waste water; then pump it back out for disposal, storage, or reclamation. Compressed air powered unit has no moving parts such as motors or impellers to clog, freeze up, or wear out. With air consumption of 19 scfm at 80 psig, it features automatic safety shut-off valve to prevent overfilling.
---
Original Press Release:

Two-Way Drum Pump for Small Spills



EXAIR's new Mini Reversible Drum Vac System is a powerful liquid vacuum, capable of vacuuming 5 gallons of liquid in less than 10 seconds. With the turn of a knob, the pump empties the drum, eliminating the need for dumping. It is the ideal way to vacuum coolant, hydraulic oils, spills, sludge, tramp oil and waste water; then pump it back out for disposal, storage or reclamation.

The Mini Reversible Drum Vac System uses a durable, stainless steel two-way pump that is suitable for use with most non-flammable liquids. It is compressed air powered and has no moving parts such as motors or impellers to clog, freeze up, or wear out. An automatic safety shut-off valve prevents overfilling the drum. A built-in pressure/vacuum relief is integral to the muffling body for safe, quiet operation. There is no shock hazard since electricity is not required. Air consumption is only 19 SCFM at 80 PSIG.

The Mini Reversible Drum Vac System comes complete with the two-way pump, shutoff valve, 5 gallon drum with lid and locking ring, 10' (3m) vacuum hose, 90 degree vacuum hose quick release elbow, complete assortment of tools and a spill recovery kit. Price is $689.

A Reversible Drum Vac for 55 and 30 gallon drums is also available.

For more information contact:
EXAIR Corporation
11510 Goldcoast Dr.
Cincinnati, OH 45249-1621
Phone: (800) 903-9247
Fax: (513) 671-3363
E-mail: techelp@exair.com
www.exair.com/minirdv.htm

Contact:
Gary S. Gunkel,
Marketing Manager
Phone: 800-903-9247
Fax: 513-671-3363

More from Fluid & Gas Flow Equipment