Drum Motors solve material handling challenges.
Press Release Summary: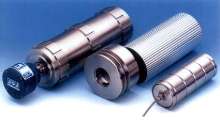 With motor, transmission, and bearings totally enclosed in drum shell, Series BLD conveyor drive systems produce noise levels of 50 dB, meeting OSHA requirements. Rated from 0.11-7.5 hp and running at 96% efficiency, drum motors range in diameter from 3.18-12.6 in. with face widths from 7.8-67 in. Belt speeds range from 23-1,369 fpm. Mounted with 2 brackets, sealed-for-life units are virtually maintenance-free and protected from water, dirt, dust, and chemicals.
---
Original Press Release:

Drum Motors Designed to Solve Material Handling Challenges Featured at Promat 2005


BDL America, a manufacturer of internally-motorized drum motors, will be highlighting their complete line of products that provide maintenance-free operation in a variety of conveyor belt applications at ProMat 2005, Booth #355, January 10-13, McComnick Place South, Chicago, III. The BDL drum motor, also referred to as a motorized pulley, is an advanced and highly efficient conveyor drive system where the motor, transmission and bearings are totally enclosed within drum shell. Power from the motor is transmitted through the gearbox which is coupled to a geared rim fixed to the drum and housing.

Mounted with just two (2) brackets, there is no need for multiple parts -- and multiple vendors. Ordering and installation are quick and easy requiring less than half the time needed to install external drives. The drum motor requires no external component maintenance.

Drum motors in the BDL family feature durable steel gears with precision cut and honed teeth - reducing noise levels to only 50dB to meet OSHA requirements. Efficient and reliable, the motors run at 96 percent efficiency, saving up to 32 percent (unloaded) and 47 percent (loaded) on power consumption when compared to exposed drives.

The "sealed for life" drum motor is protected from water, dirt, dust, grit, chemicals and other potential contaminants. The motor's compact design eliminates all external parts, such as: motors, gearboxes, chains or belts, pillow block bearings and associated guards. Virtually maintenance-free, the units only require an oil change after 50,000 hours of operation and the oil change can be performed without removing the drum motor from the conveyor.

The drum motor is available in a wide range of sizes, standard ratings and speeds: diameters from 3.18 to 12.6 inches, and face widths from 7.8 to 67 inches. Non-standard widths are also available. Drive motors are rated from 0.11 hp to 7.5 hp. Belt speeds range from 23 to 1369 feet per minute. Customized motors are available upon request.

For more information on drum motors visit Booth #355 at ProMat 2005, or contact, BDL America, 101 Portwatch Way, Wilmington, NC 28412, phone 910-790-8008, fax 910-790-8022, e-mail sales@bdlamerica.com, web site www.bdlamerica.com.

More from Electrical Equipment & Systems