Drum-Motor Lagging extends belt life.
Press Release Summary: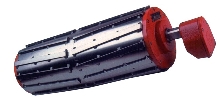 Drum-motor lagging options and motor-face patterns improve belt traction and tracking in concrete and aggregate operations. Laggings are available in smooth or patterned rubber and urethane or metal. Metal-tread laggings eliminate oil build up in asphalt recycling. Laggings complement standard parabolic, machine-crowned shell that tracks on all points of contact. They ensure even belt wear and minimize downtime and maintenance costs on new and existing conveyors.
---
Original Press Release:

Drum Motor Lagging Improves Efficiency, Maximizes Belt Life For Belt Conveyors Used In Concrete And Aggregate Operations


An extensive line of drum motor lagging options and motor face patterns, that improve belt traction and belt tracking, are available from Van der Graaf, Inc. A variety of laggings can be added to compliment the standard parabolic (machine-crowned) shell that tracks on all points of contact maximizing belt traction, ensuring even belt wear and extending belt life.

Available in either smooth or patterned rubber, urethane or metal, the lagging increases bulk conveyor belt efficiency by minimizing downtime and maintenance costs on a wide variety new and existing conveyors in quarries, mining operations, asphalt and concrete production construction and demolition projects and waste management facilities, among others.

Typical lagging applications are matched to the material being conveyed. In the specific case of asphalt recycling, a high amount of petroleum leeches out and attacks the conveyor belting and may adhere to either the drum motor face or conventional lagging. If the oil is allowed to build up, a potential problem of belt slippage and tracking may occur. A new metal tread lagging was designed to overcome these challenges. The innovative design eliminates oil build up and maintains proper belt traction to extend belt life in this demanding environment.

Drum Motor Details

The Van der Graaf drum motor is totally self-enclosed, the electric motor and the gear drive are enclosed within the outer shell of the conveyor drum motor. The motor rotates two-stage gearing that transmits power to the outer shell through a final gear ring that is fixed to the rotating shell. Mounted with just two (2) brackets, there is no need for multiple parts - and multiple vendors. Ordering and installation are quick and easy requiring less than half the time needed to install external drives. The drum motor requires no external component maintenance.

Drum motors in the Van der Graaf family feature internal AGMA 12 rated gears, made of high alloy steel with precision cut and honed teeth -- reducing noise levels to meet OSHA requirements. Efficient and reliable, the inverter duty motors run at 96 percent efficiency, saving up to 30 percent on power consumption when compared to exposed drives and are available in all standard voltages.

The drive is hermetically sealed in a steel shell that protects the motor from water, dirt, dust, grit, chemicals and other potential contaminants. The motor's compact design eliminates all external parts, such as: motors. gearboxes, chains or belts, pillow block bearings and associated guards.

Virtually maintenance-free, the units only require an oil change after 50,000 hours of operation and the oil change can be performed without removing the drum motor from the conveyor. The drum motors withstand the rigors of harsh environments including high pressure and chemical washdown.

The drum motor is available in a wide range of sizes, standard ratings and speeds: diameters from 3.9 to 19.69 inches, and face widths from 10 to 63 inches. Non-standard widths are also available. Drive motors are rated from 0.11 hp to 40 hp. Belt speeds range from 23 to 1369 feet per minute. The metal tread option is available on motors with 8.5-inch diameters and higher.

For more information on lagging for drum motors contact, Van der Graaf Inc., 2 Van der Graaf Court, Brampton, Ontario L6T 5R6 Canada, toll-free phone 888-326-1476, fax 888-326-0089, www.vandergraaf.com.


More from HVAC