Drum Dumper handles up to 850 lb.
Press Release Summary: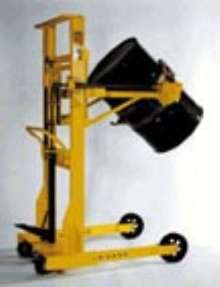 Fully portable TD-850 drum dumper allows operator to pick up drums, mix contents, and pour or dump them. It handles 55 gal steel, fiber, and plastic drums and is available in fully counterbalanced or straddle-leg configurations. Hinged fiber-padded saddle, with 360° rotation radius, locks in drum. Antibacklash, worm-gear reducer provides added safety. Battery-powered model TD-850PL is offered for high-volume lifting and dumping.
---
Original Press Release:
Mix, Pour and Dump Drums

The fully portable TD-850 drum dumper from Liftomatic allows the operator to pick up drums, mix contents and pour or dump them, smoothly and easily. It handles 55-gallon (210 liter) steel, fiber, and plastic drums and can be ordered in fully counter-balanced or straddle-leg configurations.

Drums weighing up to 850 pounds are locked into a hinged fiber-padded saddle with a 360-degree rotation radius. An anti-backlash, worm gear reducer provides added safety

The operator easily controls forward and reverse transport on this ergonomically designed unit including virtually effortless raising and lowering of the drum. If high-volume lifting and dumping are needed an optional battery-powered lifting model is available (TD-850PL).

Liftomatic Material Handling, Inc. maintains manufacturing, engineering and sales facilities in the United States, U.K., and Asia. The company sells to over 400 of the Fortune 500 companies in more than 40 countries worldwide.

For more information contact Liftomatic Material Handling, Inc., 700 Dartmouth Lane, Buffalo Grove, IL 60089/USA. Toll-free: 800-837-6540 Fax: 847-325-2959 Web site: www.liftomatic.com
More from Health, Medical, & Dental Supplies and Equipment