Drum Dumper handles more than a ton.
Press Release Summary: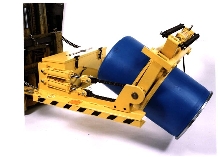 Forklift-mounted ADT-25 attachment runs on its own battery power and hydraulic system. It dumps and pours up to 2,500 lb steel, fiber and plastic drums, and has adapter for handling smaller, 12 in. drums. It has variable clamping pressure, adjustable speed control, battery and charger, 25 ft pendant switch cord, 180 deg pouring rotation, and rubber-faced clamp pads for fiber and plastic drums.
---
Original Press Release:
New Fork-Mounted Drum Dumper Handles 2500# Loads!

BUFFALO GROVE, IL -

No more dangerous manhandling and dumping of steel, fiber and plastic drums!

Liftomatic's new ADT-25 drum dumper makes forklifts more versatile and ends the headaches associated with dumping and pouring from heavy drums.

The ADT-25 is a self-contained forklift attachment, running on it's own battery power and hydraulic system. No piping into the truck is necessary with auxiliary valves, etc. The ADT-25 contains user-oriented features such as:
- Variable clamping pressure
- Fully adjustable speed control
- 180 degree pouring rotation
- Rubber-faced clamp pads for fiber and plastic drums
- 25-foot pendant switch chord for operator ease of use
- Battery and charger included
- 2500# capacity
- Adapters for smaller drums to 12" in diameter

Couple these great features with a super-high quality unit, and then add the industry's longest warranty program, and you have another superb problem solver from Liftomatic.

Headquartered in Buffalo Grove, Illinois, Liftomatic maintains manufacturing, engineering and sales facilities in the United States, U.K. and in Asia. Acknowledged as the leader in design and manufacture of drum handling equipment, Liftomatic prides itself in providing tough material handling equipment for tough industrial jobs. The company currently sells worldwide to over 400 of the Fortune 500 companies.

For more information contact the sales department at Liftomatic toll free at 800-837-6540. Better yet, if you need to see our entire product line, visit us on-line at www.liftomatic.com. You may also order products and literature from this interactive web page.

EC Sales Office: 9 Farriers Way Industrial Estate, Bridle Road, Merseyside, UK L304XL Telephone: 44.151.524.3066 Fax: 44.151.524.3075
Asia Sales Office: Room 1202, Valley Centre, 80-82 Morrison Hill Road, Hong Kong Telephone: 852.2893.9245 Fax 852.2838.2306

More from Health, Medical, & Dental Supplies and Equipment