Drum Containment Berm keeps 55 gal drum storage in compliance.
Press Release Summary: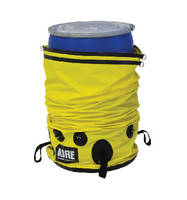 Providing short-term spill management solution for leaky or damaged drum, Encapsa Berm encapsulates drum, eliminating need to place it on any type of plastic spill container. User slides drum inside bag and rolls down top to create air-tight seal and contain all liquids. With Encapsa Berm, drums can be individually contained and moved, and space is gained by not having bulky platforms clutter workspace.
---
Original Press Release:
55 Gallon Drum Containment for Compact Areas- How to Achieve More Space in the Workplace
A new drum containment product designed by Aire Industrial can assist with keeping your 55 gallon drum storage in compliance. If you have space constraints or are just looking for a more compact drum containment solution, then this new drum spill control product might be of interest. The Encapsa Berm is the perfect short-term spill management solution for a leaky or damaged drum. Just simply slide the drum inside the bag and roll down the top to create an air tight seal to contain all liquids Most 55 gallon drum containment is actually rectangular or square in size. Maybe you have also noticed that most of the drum containment products are made out of molded hard plastic. Why are products for mobile, cylindrical drums so immobile and ill fitting? These questions are answered by a new drum product that was specifically tailored for space saving and mobility. The Encapsa Berm is a drum confinement product that literally encapsulated the drum, thereby forgoing the need to sit it on any type of plastic spill container. The features of the Encapsa-berm for 55 gallon drums are numerous:
o Space is gained by not having bulky platforms clutter workplace
o Drums can be individually contained
o Any leak with not cross contaminate from drum to drum
o Moving a leaky drum is easy as the spill is completely contained
o Spill prevention is simple, just place the drum inside the Encapsa-berm
o Field use of the drum container requires minimal space to transport drums Using modular spill platforms and pallets are not the only way to achieve workplace compliance and safety for the storage of 55 gallon drums. Other methods can provide safe and reliable drum spill containment. Storing leaky drums on heavy and inefficient surfaces that are hard to maneuver and take up precious floor space can be overcome by using an Encapsa Berm. For more information on this and other drum containment units, contact Aire Industrial, 2021 E Wilson Ln, Meridian, Id 83642, 1-800-247-3846 or visit www.aireindustrial.net where information, photos and supplemental chemical compatibility charts can be found. About AIRE Industrial:
Located in Meridian, ID, AIRE Industrial has combined its technical knowledge and manufacturing expertise of flexible textiles to provide containment products and spill prevention solutions for government agencies, military, agriculture, environmental containment, and the wild land fire suppression industries.
More from Electronic Components & Devices