Drum/Barrel Mover promotes safety and efficiency.
Press Release Summary: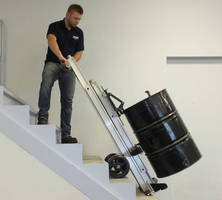 With 700 lb capacity and ability to raise/stack load up to 40 in. high, PowerMate® Barrel Moving Solution enables barrels and drums to be transported up/down stairs and on/off skids or pallets without conventional strapping or belting. Attachment on frame clamps to top of barrel or drum, securing it to dolly, while 2 drive screws facilitate climbing of stairs. As 5-in-1 machine, motorized solution can also acts as dock leveler and balanced dolly capable of negotiating curbs and thresholds.
---
Original Press Release:
The New PowerMate® Barrel Moving Solution - Application For Anyone Challenged With Moving Drums and Barrels Safely and Efficiently!
Brantford, Ontario — L P International Inc., manufacturer  of PowerMate® is excited to introduce their new product, PowerMate® Barrel Moving Solution. This new addition to L P's PowerMate® line of product is a direct result of customers in the Petroleum – Gas & Oil Industries and the Chemical & Water Treatment Industries with the need for an easier, safer and efficient way to move barrels and drums up and down stairs and on and off skids or pallets without the conventional strapping or belting system typically found on dollies. The Barrel Moving Solution is a machine that does it all! It offers motorized stair climbing solution: 5 in 1 machine: climbs up and down stairs, acts as a dock leveler, is a well-balanced dolly, negotiates curbs and thresholds, even stacks! It also Increases safety by preventing workplace injuries.

Based on the PowerMate® Model LE-1, the new barrel moving equipment comes complete with a special attachment on the frame that clamps to the top of the barrel or drum, securing it to the dolly. This attachment eliminates the requirement to strap the container to the dolly, allowing barrels placed closely together to be picked up and placed, eliminating the need to maneuver them to get the conventional straps or belts around the container.

Like the LE-1model, it has two drive screws to make climbing stairs even easier. With a recommended weight capacity of 700lbs/318Kgs, the operator has the capability to raise and lower the weight of the barrel or drum over the center of the frame allowing redistribution of the load's weight to the center of the stair climber and off the operator. Additionally, the new Barrel Moving Solution also gives the operator the ability to "raise or stack" the load up to 40 in/102.6cm high, the length of the machines drive screw, which is ideal for moving loads on and off a pallet or skid.

Additional features and benefits include:
• The PowerMate® requires half the labor
• Provides safety – it is viewed as a piece of PPE (Personal Protective Equipment)
• Avoids preventable injuries
• Increases employee productivity and moral
• Extruded aluminum frame construction, solid state circuitry, 10" wheels
• Saves time and labor costs and increase your PROFITS!!

Any industry or business with safety concerns for moving these types of loads that require stair climbing will benefit from the PowerMate® Barrel Moving Solution.

PowerMate® has, or can, create a safety moving solution for just about any load moving requirement up to 1,500 pounds.  Visit www.PowerMate.info and contact one of our Solution Specialists at 1-800-697-6283 to learn more about the PowerMate® Barrel Moving Solution and other PowerMate® Safety Lifting Solutions.
More from Mechanical Power Transmission